Action: On Thursday, July 13th, 2017, organizations representing thousands of concerned Manitoba businesses and residents, joined together to publicly oppose carbon taxes in the province. CFIB joined the Canadian Taxpayers Federation (CTF), the Western Canadian Wheat Growers Association and AxeTheCarbonTax.ca to form the Manitobans Against Carbon Taxes Coalition to fight the proposed carbon dioxide emissions tax plans being developed by the federal and Manitoba governments. The Coalition also unveiled a province-wide advertising campaign opposing carbon taxes.
COALITION FORMS TO FIGHT CARBON TAX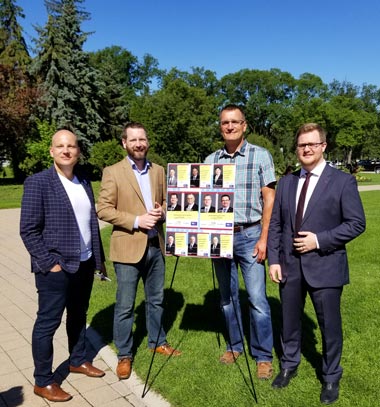 It is clear the Manitoba government is realizing the damage of introducing carbon taxes, as it is now seeking a legal opinion on its right to develop its own 'made-in-Manitoba' carbon price plan, without interference from the federal government. However, the Coalition is calling on Premier Brian Pallister to join Saskatchewan Premier Brad Wall by aggressively opposing all carbon taxes.
The Coalition also wants the Manitoba government to deliver on its campaign promise to hold a referendum on any major tax hikes, which must include carbon taxes. The provincial government's election platform clearly promised to restore "Manitobans' right to vote on any proposed major tax increases." Carbon taxes are major taxes and should require a referendum, as they will increase the cost of virtually everything in Manitoba.
Background: The federal government plans to impose a price of $10 per tonne of carbon emissions in 2018, rising to $50 per tonne in 2022, in each province that has not established an equivalent plan by the end of 2017. Current estimates predict that the federal carbon tax will cost 11.63¢/L on gasoline and 13.69¢/L on diesel fuel in 2022. The government of Manitoba has committed to its own "made-in-Manitoba" carbon tax plan, but has yet to release detailed costs of this plan.
In Saskatchewan, the provincial government is "aggressively fighting" the idea of a federally-imposed carbon tax. In fact, Premier Wall has committed to challenge the federal government's constitutional authority to impose a carbon tax on a select province. Although the government of Manitoba has yet to sign the Pan Canadian Framework on Clean Growth and Climate Change, they have not decided if they will join Saskatchewan's fight in court.
Next Steps: CFIB will continue to strongly oppose carbon taxes in Manitoba. With the uncertainty surrounding the new administration south of the border, it is important that we retain our competitive edge. We simply cannot afford an environmental policy that will place an undue burden on your business through new taxes and regulations.
We need your help! Please add your voice to help stop carbon taxes in Manitoba. Sign our Action Alert: Stand up for Manitoba and oppose carbon taxes! Once signed, please return it by fax to (204) 982-0811 or scan and email it to: [email protected].
Post Date: July 13, 2017