Issue: The Alberta Government tabled Alberta's 2017 Budget- Working to Make Life Better. Sadly, there were no new small business initiatives in this budget. In fact, the Government posted a deficit of $10.3 billion, with provincial debt increasing to $45 billion by fiscal year end. There no plan to get back to a balanced budget and provincial debt is expected to balloon to $71 billion by 2020.
Action:
This year, business groups were initially shut out of pre-budget meetings in Alberta. Persistence and strength-in-numbers finally paid off when Minister Joe Ceci finally accepted CFIB's invitation to meet mid-February.
CFIB presented your priorities from our pre-budget submission, which was based on feedback we received from over a thousand business owners who responded to CFIB's 2017-18 Alberta Budget survey.
CFIB was on hand at the legislature when the budget was unveiled, to make sure the small business perspective was heard.
DISCUSSING PRE-BUDGET PRIORITIES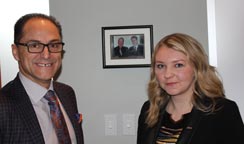 2017 Budget Highlights:
The deficit is projected to be $10.3 billion for 2017.
The province's debt reaches $45B in 2017 and will grow to $71B by 2020 with more than $2 billion in interest payments a year by 2020.
The Government is not expecting to balance the budget until 2024, but there is still no plan for how to achieve this other than hoping for oil prices to rise.
No new taxes introduced beyond what has already been announced.

Reminder: carbon tax came into effect Jan 1st 2017 to raise $9.6 billion over five years. It starts off at $20/tonne in 2017, with Albertans paying an additional 4.49 cents a litre at the pump and for home heating. Next year it rises to $30/tonne adding an additional 2.68 cents a litre.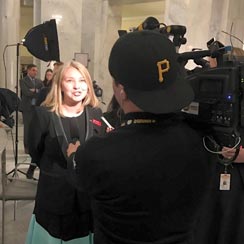 As previously announced, reducing the small business income tax rate from three per cent to two per cent on January 1, 2017.
Energy Efficiency Alberta program, with an estimated $566 million in funding over three years to deliver a variety of programs and services for energy efficiency and small scale renewables.
Carbon levy rebates to low- and middle-income Albertans, with up to $300 for single adults, $450 for couples and $45 per child in 2018.
Limiting growth in operating spending to an average of 2.2% in 2017-18.
Reducing salaries of the highest paid CEOs of 23 provincial agencies to save $16 million per year.
Amalgamating or cutting 26 agencies, boards and commissions.
Freezing salaries of political staff and management in the Alberta Public Service and agencies, boards and      commissions.
Next steps:
CFIB will be pushing hard in the coming months to ensure real action is taken by the Alberta Government to address small businesses concerns.
If you have any questions, please call CFIB's Business Resources at 1-888-234-2232 or email [email protected]
Not a member of CFIB yet?  JOIN CFIB today for more help and information.
Post Date: May 14, 2017