On January 27, Scott Moe, became the new leader of the Saskatchewan Party and Saskatchewan's 15th Premier.
We look forward to meeting with the new Premier soon to discuss your top priorities and ensure he keeps his commitment to remove the PST from insurance premiums. See the full list of the Premier's commitments to business owners.
Pushing your key priorities & concerns:
As a non-partisan organization, we did not endorse specific leadership candidates. However, we worked hard to ensure your concerns were front and center in all candidates' platforms. CFIB met with all Saskatchewan Party candidates and asked them for their specific commitments on your top issues. Read CFIB's 2017 Leadership Candidates' Survey on Saskatchewan Small Business Issues.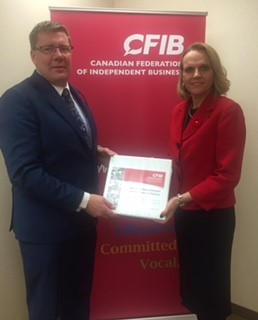 Regarding the NDP Leadership Race, we have requested to meet with the two leadership candidates and recently surveyed them and will post their responses prior to a new leader of the Saskatchewan New Democrats being elected on March 3, 2018 in Regina.
In particular, we welcome Premier Moe's commitments to the following policies:
1. Getting back to balance:
Supports the government's three-year plan to balance the budget.
Committed to introduce a 5% workforce reduction in Executive Government and the Crown Corporations through retirement and attrition as part of his plan to balance the budget. Potential savings of $70 million.
2. Competitive Tax Environment:
Will remove the PST from insurance premiums: Committed to reinstate the PST exemption on crop, life, accident and health insurance.
PST Commission – is prepared to consider a revenue threshold similar to the GST for collecting and remitting after consultations with stakeholders.
Opposes a federally imposed Carbon Tax.
Rejects increasing taxation powers to municipalities (e.g. fuel, income or sales taxes).
3. Red Tape Reduction: 
Believes strongly that we need to get rid of the bad rules and make good rules easier to understand in order to make it easier for business owners to do what needs to be done.
Government needs to cut obsolete regulations and pointless paperwork.
Committed to a Red Tape Web-Portal where questions and concerns are submitted and responded to on an ongoing basis.
4. Balanced Labour Laws:
Opposes increasing Saskatchewan's minimum wage from $10.96 to $15.00 per hour.
What's Next?
We plan to meet with the new Premier and new Cabinet Ministers in the coming days. Make your voice count! Please sign CFIB's action alert: Remove PST from Insurance Premiums  to ensure the Saskatchewan Government implements this important change in the upcoming 2018 Saskatchewan Budget.