Thanks to you, we delivered 1,350 signed petitions to the new Manitoba Minister of Growth, Enterprise & Trade calling on the WCB to refund $208 million in surplus funding to employers like you.
DELIVERING 1,350 ACTION ALERTS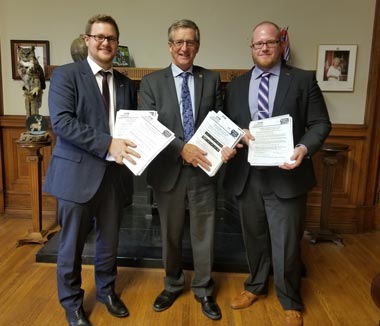 Actions to date:
September 19, 2017: We met with the new Minister of Growth, Enterprise & Trade, Hon. Blaine Pedersen, to review CFIB's key priorities for Manitoba's WCB Act Review, and delivered over 1,350 signed petitions calling on WCB to refund excess premiums.  
June 20, 2017: Thanks to you, we delivered over 1,100 signed petitions to the Manitoba Minister of Growth, Enterprise & Trade calling on the WCB to refund hundreds of millions of dollars in surplus funding to employers. As of January 1st, 2017, WCB's funding position was at 145.9 per cent, or $208 million over-funded. We also presented our recommendations on how to make WCB more affordable and accountable.
February, 2017: CFIB submitted your views to the The Workers Compensation Act Legislative Review Committee's (2016) review of the Manitoba's Workers Compensation Act. This is the first such review in 10 years. View CFIB's Submission to The Workers Compensation Act Legislative Review Committee 2016
July 2016: We launched an aggressive campaign Urging Manitoba WCB to stop overcharging employers!
Since the full cost of WCB is covered by Manitoba employers, the affordability of workers' compensation is a major business issue and the top priority of CFIB members (see Figure 1). The second priority of members is claims management. In fact, workers' compensation systems are so complex, Manitoba business owners point to WCB and Workplace Safety & Health requirements as the second most burdensome area of provincial regulations.
Figure1: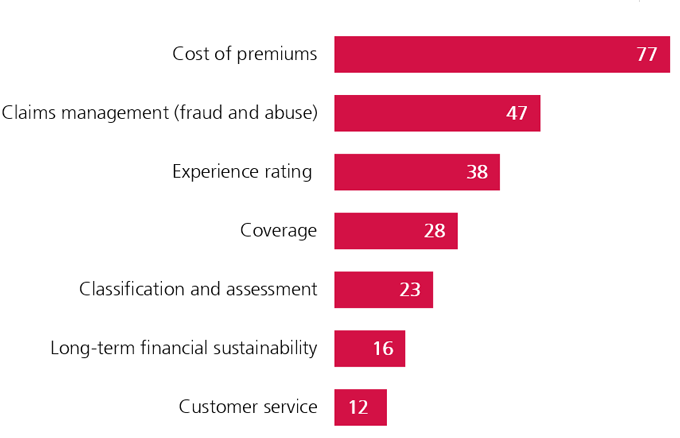 As a result, CFIB provided important survey results on the following important issues: financial accountability; costs of premiums; claims management; the appeals process; rate setting and assessments; classification and assessment; and, customer service.
CFIB is committed to ensuring a compensation system that is responsive to injured workers and accountable to employers.
CFIB's recommendations:
Financial accountability:
Change WCB's current targeted funding position of 130 per cent to a funding ratio (total assets over total liabilities) between 100 per cent and 110 per cent.
Rebate surplus monies when the funded status rises above a threshold of 110 per cent.
A surplus should be rebated in the year it is realized, similar to Alberta.
Cost of premiums:
Improve the speed at which an injured worker is sent for diagnostic testing and referred to a specialist - with a goal of reducing wait times to zero.
Claims Management:
Establish an independent office of the Employer Advocate to provide meaningful support to small business.
Rate setting and Assessments:
A maximum insurable earnings limit should be established in the calculation of workers' compensation premiums and benefits.
Modifications be made to the assessment system to introduce some elements of occupational classification, for example, a clerical rate.
Allow businesses to buy their workplace disability insurance coverage from a private insurer (not the workers' compensation system).
Classification and Assessment:
Ensure all classification and premium information is communicated to small business employers in plain language.
Allow employers to pay premiums based on actual, rather than estimated, payroll.
Customer Service:
Provide training to front–line staff to ensure they are knowledgeable about the needs of small businesses.
Clearly define record keeping requirements.
Adapt working hours to suit needs of small business.
Post Date: September 19, 2017