Help us fight the unfair federal carbon tax!
The federal government plans to impose a carbon tax on Saskatchewan, Manitoba, Ontario, and New Brunswick on April 1, 2019. The tax will increase each year until 2022. You will pay more for fossil fuels like gasoline, diesel and natural gas.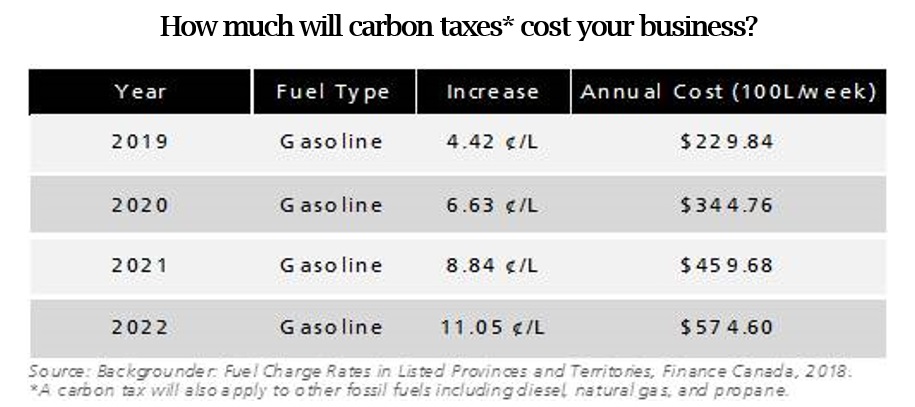 Carbon tax revenue: $2.4B in 2019-2020 to $21.9B in 2023-24
The carbon tax fails the fairness test
CFIB released survey results which revealed:
Small business left footing the bill: You will pay almost 50% of the federal carbon tax bill, but only get 7% back. So it's no surprise that 87% of you believe the current plan is unfair. 
Small business cannot pass along the costs of a carbon tax: While the federal government expects you to simply pass your added costs down to consumers, 82% of you say you will be able to pass on less than 25% of these new costs.
73% of Sask small businesses say a federal carbon tax will make their business less competitive.
We met Premier Moe to deliver 3,000 petitions opposing a costly carbon tax
91% of Sask small businesses support the province's legal challenge:
The Government of Saskatchewan's court challenge on whether a federal carbon tax is constitutional was heard by the provincial Court of Appeal on February 13 & 14, 2019. We commended the provincial government for standing up for Saskatchewan by aggressively opposing the federally imposed carbon tax.
We are urging the federal government to: 
NOT proceed with imposing the federal carbon tax on our province.
Instead – work with the provinces to find better ways to reduce emissions that won't negatively affect small businesses and the economy.
We will continue to fight this unfair & unaffordable plan.
Join the fight! We know your business cannot afford the combined costs of five years of CPP increases and four years of costly federal carbon tax increases. Sign our petition today!
Post Date: February 27, 2019