The majority of Manitoba's small business owners oppose the introduction of carbon taxes. Sign our petition to help fight this tax hike that will hurt your business!
Issue: On October 3, 2016, the federal government announced the basic framework for the Pan-Canadian Approach to Pricing Carbon Pollution, which mandates each province has until 2018 to adopt a carbon price plan or the federal government will impose a carbon tax in their province. The proposed carbon tax plan will place a "floor price" of $10 per tonne on carbon emissions in 2018, and increase it to $50 per tonne by 2022 for residents and businesses. This tax will add an estimated cost 11.63¢/L on gasoline and 13.69¢/L on diesel fuel in 2022, among others.
The Manitoba government has committed to developing a "made in Manitoba solution" and is currently in the works of developing its own carbon pricing plan. Premier Pallister stated that Manitoba's carbon pricing plan will not use a cap-and-trade system. In contrast, the Saskatchewan government has strongly opposed a federally-imposed carbon tax, and has committed to challenge the federal government's constitutional authority to do so in court.
Action:
July 13th, 2017: Organizations representing thousands of concerned Manitoba businesses and residents, joined together to publicly oppose carbon taxes in the province. CFIB joined the Canadian Taxpayers Federation (CTF), the Western Canadian Wheat Growers Association and AxeTheCarbonTax.ca to form the Manitobans Against Carbon Taxes Coalition to fight the proposed carbon dioxide emissions tax plans being developed by the federal and Manitoba governments. The Coalition also unveiled a province-wide advertising campaign opposing carbon taxes.
June, 2017: CFIB launches an aggressive campaign to oppose carbon taxes in Manitoba with a new Action Alert:Stand up for Manitoba and oppose carbon taxes!
April, 2017: For the second time, CFIB met a leading official from the Manitoba government to reiterate our members' significant concerns about carbon taxes in Manitoba, as well to better understand what plans are being considered and the impacts of these plans.
March, 2017: The Manitoba government launched its consultation on Manitoba's Climate and Green Plan. CFIB submitted your priorities to the government and recommended that they not proceed with any carbon pricing or carbon tax plans. 
Instead, they should focus on:
Improving participation and access for existing government policies and resources to help lessen Manitoba's environmental impact;
Educating small business owners on existing energy efficiency measures and associated costs savings, and evolving best practices to help them reduce their environmental footprint.
October – November, 2016: CFIB conducted its 2017-2018 Manitoba budget survey, which also asked our members' views on carbon taxes. The results revealed a majority (62%) of Manitoba's small business owners do not support implementing a price on carbon or a carbon tax in Manitoba.
October, 2016: After the federal government announced its Pan-Canadian Approach to Pricing and Carbon Pollution, CFIB met with the Manitoba government to present our members' serious concerns about the province's carbon plans.
July - August, 2016: CFIB conducted the National Environment survey to determine small businesses' views on the environment and carbon pricing policies. The survey received 5,982 responses from Canadian business owners (218 responses from Manitoba business owners).
Do you support the federal government's proposed carbon price plan beginning in 2018 in Manitoba?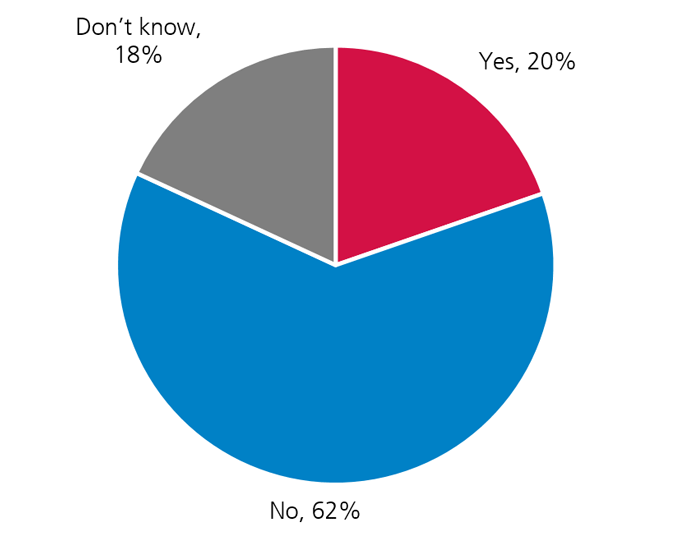 Small business concerned with costs associated with a carbon tax plan:
CFIB fears that the proposed price on carbon would have a detrimental impact on Manitoba's economy, as it will increase input costs and reduce competitiveness for many businesses in the province. 
If a carbon pricing mechanism were to increase your business costs, what would be the impact? (% response)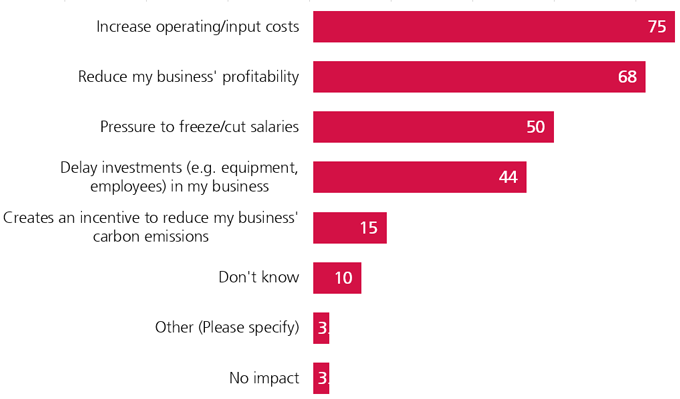 'Going green' is a priority: "CFIB's new report, Green Growth, How SMEs are working toward a greener future, shows that 'going green' is already a priority for the majority of Manitoba's small businesses. Entrepreneurs said they don't need government to force environmental change. CFIB's survey found 89 per cent are motivated to make change because of their personal views, and 47 per cent because it helps reduce their costs. Only 20 per cent said they were motivated by government policy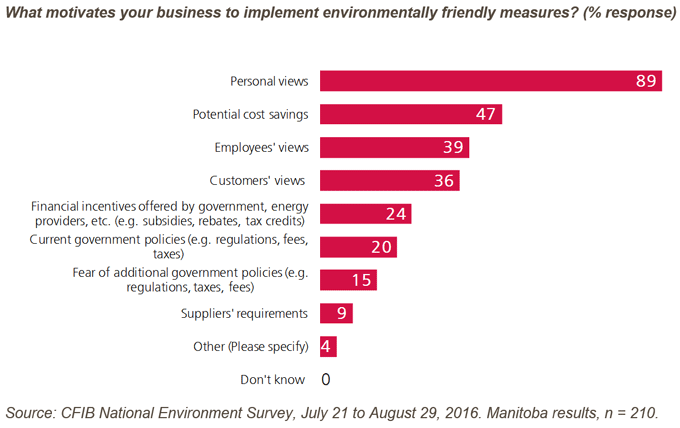 Next Steps: CFIB will continue to strongly oppose carbon taxes in Manitoba. With the uncertainty surrounding the new administration south of the border, it is important that we retain our competitive edge. We simply cannot afford an environmental policy that will place an undue burden on your business through new taxes and regulations.
We need your help! Please add your voice to help stop carbon taxes in Manitoba. Sign our Action Alert: Stand up for Manitoba and oppose carbon taxes! Once signed, please return it by fax to (204) 982-0811 or scan and email it to: [email protected].
Post Date: October 3, 2016