Issue:  Currently, Saskatchewan's legislation provides for an annual review based on changes to the consumer price index and the average hourly wage. Any changes to the minimum wage are announced by June 30 each year. Any changes take effect October 1.
 In the coming days, the Saskatchewan Government will decide if it will automatically increase the minimum wage again on October 1, 2017.
 We fear the government will ignore the number of challenges facing Saskatchewan entrepreneurs by moving ahead with another minimum wage hike.
Action:
CFIB has been working hard to show the government why it should freeze minimum wage in 2017:
May 25, 2017: Small business optimism takes a nosedive in May: CFIB's Monthly Business Barometer revealed Saskatchewan small business optimism fell for the third consecutive month to an index of 49.1 in May, from 55.1 in April. Employers' layoff plans also remain at a record high – with 21 per cent of business owners looking to decrease full-time employment over the next three months, but only 14 per cent are looking to hire.
April 27, 2017: Small business optimism declines again in April; 1 in 5 businesses planning layoffs. CFIB's Monthly Business Barometer revealed Saskatchewan small business optimism declined again to an index of 55.1 in April and one in five businesses are planning layoffs in the next three months.
April 12, 2017: Majority of Saskatchewan business owners negatively impacted by $908M in tax hikes: A CFIB post-budget survey found 79 per cent of entrepreneurs will be negatively impacted by the increase/expansion of the PST. Another 70 per cent said the tax hikes will hurt Saskatchewan's overall competitiveness.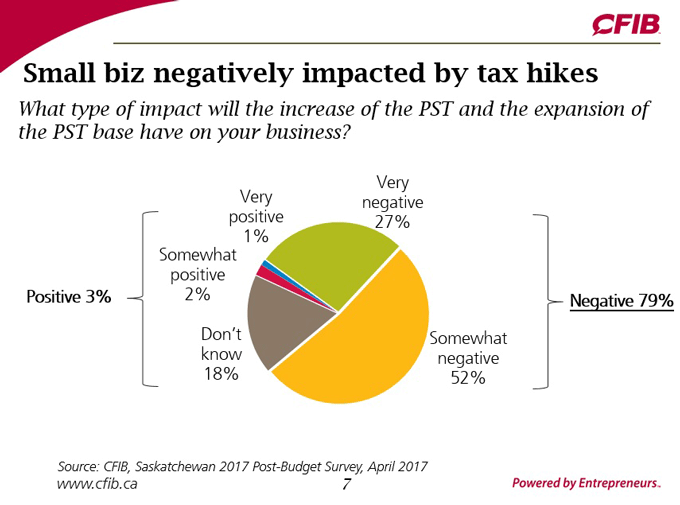 Freeze minimum wage during an economic downturn: Another CFIB survey found that 85 per cent of Saskatchewan entrepreneurs oppose minimum wage increases during an economic downturn. Only 4 per cent support an increase.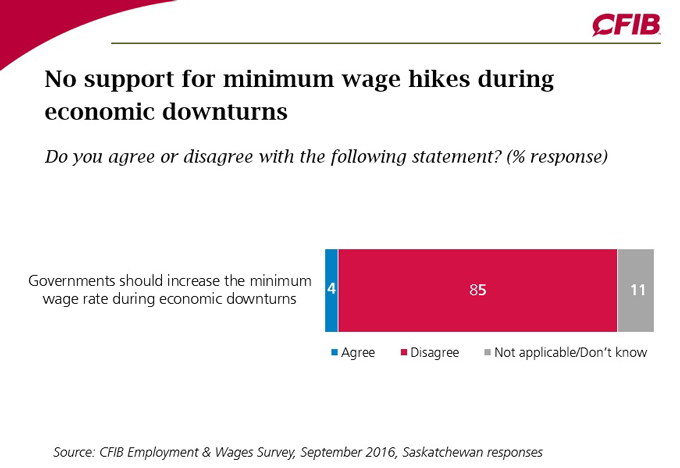 Next Steps: We know many business owners are already struggling to deal with the $908 million in tax hikes introduced in the 2017 Saskatchewan Budget and the recent municipal property tax increases introduced in the many municipalities across the province. This is on top of an Employment Insurance tax hike for all Canadians and their employers, followed by five years of Canadian Pension Plan premium increases. And if the federal government gets its way, starting next year, Saskatchewan residents and entrepreneurs will face five years of escalating carbon taxes.
That's why we are urging the province to freeze minimum wage in 2017 and will continue to fight to ensure the government listens to your concerns.
If you have questions about this or any other issue, please call CFIB Business Counsellors at 1-888-234-2232 or email [email protected].
Not a member of CFIB yet? JOIN CFIB today for more help and information.
Post Date: May 25, 2017