Small business priorities for the 2017 Manitoba Budget
CFIB regularly meets with government and opposition parties to present your priorities, and discuss the key issues impacting your business. We recently met with the Manitoba Finance Minister, the Honourable Cameron Friesen, to present Manitoba entrepreneurs' views for the upcoming provincial budget. Our small business priorities include: how the provincial government should deal with its fiscal challenges to get its budget back to balance; create a more competitive tax environment; and continue to reduce red tape throughout Manitoba.
DISCUSSING PRE-BUDGET PRIORITIES
Small businesses know that today's deficits are tomorrow's taxes. That is why CFIB recently told the Finance Minister that given the fiscal challenges Manitoba is facing, the government must make hard decisions to bring the budget back to balance by 2020.
CFIB recommendations are based on feedback we received from over 285 business owners who responded to CFIB's 2017-2018 Manitoba Budget Survey.
CFIB's 2017-18 pre-budget recommendations:
Fix the Fiscal Fundamentals:
Balance the budget by no later than 2020, without further tax increases:

Limit short-term spending increases to no more than 1 per cent per year
Limit long-term spending increases to inflation and population growth after the budget is balanced
Outline and publically release a detailed multi-year plan to return to a balanced budget

Reduce government program costs to return to sustainable spending by:

Significantly reducing the size and cost of the provincial civil service (Crown Corporations included):

Eliminate redundancy and excess staff through attrition
Narrow wage disparity (19.5%) between public and private sector workers
Eliminate work week hours gap between public and private sector workers
Move new hires from a defined benefit to defined contribution pension plan
Implementing Fiscal Performance Reviews in future years
 Create a Competitive Tax Environment:
Short-Term:
Honour election commitment to increase the small business corporate tax threshold to $500,000
Raise the Manitoba payroll tax exemption and index it to inflation
Long –Term:
Property tax: Eliminate the $5,000 cap on the Farmland School Tax Rebate program and fulfill election commitment to review the school taxes on farmland
Personal income tax: Increase the Basic Personal Exemption by at least $2,000 by 2020
Reduce the PST: Establish a plan to lower the PST back to 7 per cent by 2020
Commercial property tax: Develop a long-term plan to eliminate the ESL for commercial properties and adjust portioning regulations
Payroll tax: Implement a long-term plan to phase out the Health and Post-Secondary Education Tax Levy (the payroll tax)
Continue Reducing Red Tape:
Deliver on commitment to legislate red tape accountability which contains the following success factors:

Annual measurement and public reporting of the regulatory burden
Constraints on regulatory burden growth (one-for-one)

Introduce a Taxpayer Fairness and Service Code
Continue to pursue economic growth through the AIT:

Agree to meaningful reform of the Agreement on Internal Trade
Next Steps: CFIB plans to meet with opposition leaders in the coming weeks to present our small business pre-budget priorities and the important role that entrepreneurs play in Manitoba's economy.
For more information, please read CFIB's 2017 Pre-budget Submission.
If you have any other questions, please contact CFIB Business Resources at [email protected] or 1-888-234-2232.
Not a member of CFIB yet? JOIN CFIB today for more help and information.
DISCUSSING PRE-BUDGET PRIORITIES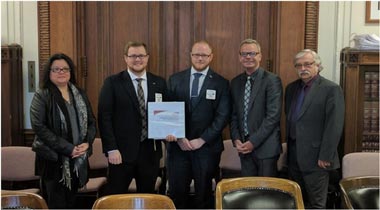 DISCUSSING PRE-BUDGET PRIORITIES