Published January/February 2016 in Canadian Meat Business magazine.
What comes to mind when you hear someone talk about government rules and paperwork? If you ask an entrepreneur, you'll get an earful about red tape headaches and frustrations in dealing with government.
A new national survey released by the Canadian Federation of Independent Business (CFIB) found red tape continues to hit farmers even harder than other small business owners in 2015. Three in four (76 per cent) farmers identify government regulation and paperburden as a serious concern for their business, compared to 69 per cent of all businesses in Canada. This marks the fifth consecutive year that farmers' red tape frustrations have outpaced that of the general small business community in Canada.
Farmers list an alphabet soup of regulations and agencies that are costing them time and money, including the Canada Revenue Agency, Canada Border Services Agency, Canadian Food Inspection Agency, Statistics Canada, land use restrictions and by-laws, and product labeling.
But, for all the photo-ops and campaign commitments made at the farm, Canada's farmers have seen little relief from the burden of costly government rules and paperwork.
Farmers have no issues with the legitimate rules; red tape is something else. For farmers, red tape takes many forms: it can be contradictory information from the Canadian Food Inspection Agency (CFIA), or Statistics Canada continuing to insist farmers complete the Census of Agriculture right in the middle of seeding. That said, the federal government has taken a first step toward reducing the burden of the Census of Agriculture by providing the survey online and also cutting some 18 questions out of the survey.
Unfortunately, when it comes to the total red tape burden, some provincial governments seem adamant to make a bad situation worse. Case in point, the Alberta government recently introduced Bill 6, the Enhanced Protection for Farm and Ranch Workers Act, despite widespread protests from farmers across the province. Bill 6 extends mandatory Workers Compensation, Occupational Health & Safety, and Employment Standards and Labour Code to Alberta farms.
Alberta farmers worry that this "one-size-fits-all" legislation will hurt the province's already fragile economy and there has been little opportunity for input. Farmers care about their employees - most of them are family and friends. Producers are committed to providing their employees with a safe and healthy workplace and believe any farm fatality is one too many. That's why the Alberta government needs to listen to farmers and focus on practical ways to improve farm safety, rather than imposing blanket rules that don't reflect the realities of farming and may not actually improve safety.
According to CFIB's research, Alberta farmers say the most effective ways to promote farm safety are making safety measures more affordable (51 per cent), safety promotions at farm shows/demonstrations (45 per cent), and safety education programs in schools (42 per cent). Only seven per cent of Alberta farmers say government legislative requirements are most effective at promoting farm safety.
Even with last-minute amendments to exempt family members, there are many outstanding concerns with Bill 6.
CFIB's data reveals mandatory inclusion of legislation included in Bill 6 would have a negative impact on Alberta farms:
79 per cent of CFIB's Alberta agri-business members say mandatory inclusion of agriculture under the Employment Standards and Labour Code would have a negative impact on their business
75 per cent say mandatory inclusion of agriculture under the Occupational Health and Safety Act (OH&S) would have a negative impact on their business
62 per cent say mandatory inclusion of agriculture under the Workers' Compensation Act (WCB) would have a negative impact on their business
Occupational Health & Safety, WCB, Employment Standards and the Labour Code were not written with the realities of farming in mind. We all know agriculture is not a nine to five business, especially during peak production, like harvest or calving season.
Alberta's economy is already fragile and Bill 6 will hit Alberta's agriculture sector hard. The Alberta government should be working to keep agriculture competitive in order to attract the next generation of farmers. Unfortunately, Bill 6 will do the exact opposite.
Clearly there are many reasons why Bill 6 is unworkable for Alberta farmers. That's why CFIB is urging the Alberta government to stop, listen and consult with Alberta farmer to find ways to improve farm safety without threatening the livelihood of thousands of Alberta producers. The next round of consultation must extend beyond six roundtables of appointed stakeholders.
This is just one example of a government imposing knee-jerk regulations without a proper understanding of the realities of agriculture. Those in agri-food production aren't immune to this kind of red tape either. For example meat processors have been frustrated for years with the paperwork needed to prove they can't find Canadians willing to take work in order to access temporary foreign workers.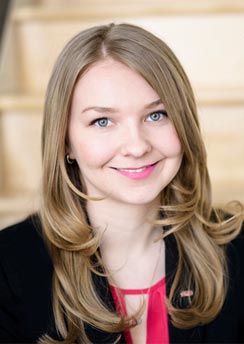 CFIB is committed to fighting the red tape burden. Let's hope governments start listening to the vibrant and innovative agri-businesses that continue to provide an abundance of jobs and quality food for Canadians.
Visit www.cfib.ca to find out what you can do to make sure all levels of government hear your voice on issues important to your business.
Amber Ruddy is Director of Provincial Affairs, Alberta, for the Canadian Federation of Independent Business (CFIB). Follow Amber on Twitter @aruddy and learn more about CFIB at www.cfib.ca.
Established in 1971, CFIB is Canada's largest association of small- and medium-sized businesses, CFIB is Powered by Entrepreneurs™. CFIB takes direction from more than 109,000 members (including 7,200 agri-business owners; with 750 agri-business owners in Alberta) in every sector nationwide, giving independent business a strong and influential voice at all levels of government and helping to grow the economy.
Post Date: February 22, 2016