Three out of four small business owners support letting private insurers provide basic auto insurance
VANCOUVER, December 10, 2018 – In the lead up to this week's expected announcement of massive increases to auto insurance rates by ICBC, the Canadian Federation of Independent Business (CFIB) has released new survey results showing the business community wants major reform of the system.
Since its inception, ICBC has had a complete monopoly on the sale of basic (mandatory) auto insurance in BC. Unfortunately, the results of this system have been disastrous. Rates have increased nearly 45 per cent since 2012 and are projected to continue to rise dramatically this year, despite the provincial government's best efforts to control rising costs.
"It's clear that the solution to the challenges in BC's auto insurance system must be found outside our crown insurer, and that's why CFIB is calling on the BC Government to open up the insurance industry to competition," stated Richard Truscott, Vice President, BC and Alberta.
CFIB surveyed over 1,000 BC business owners asking if the BC government should allow private insurers to sell basic auto insurance. Nearly three-quarters (73%) want this change, compared to just 11% that opposed (15% were undecided, 1% had no interest).
"ICBC appears to not just be broke, but broken. The result has been skyrocketing rates, inefficient allocations of resources, and lack of innovation in the industry," said Truscott. "Other provinces have more affordable insurance with better benefits. It's time to end the monopoly and let competition create efficiencies and reduce costs."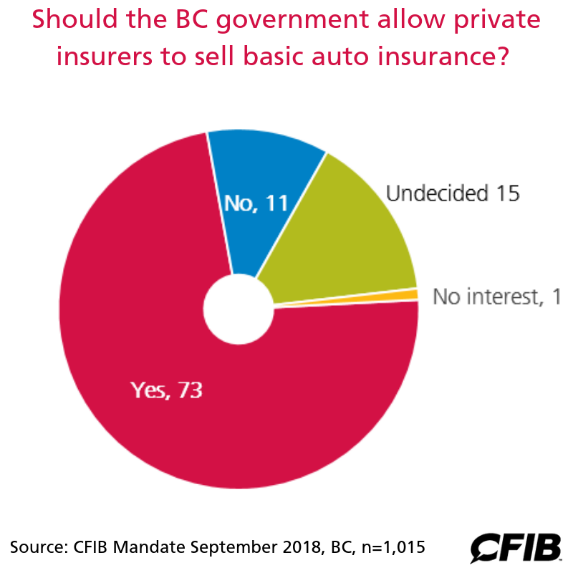 Some facts about ICBC:
ICBC charges the highest auto insurance premiums in Canada, but pays less per claim than other provinces with competitive insurance systems
In 2018 alone, ICBC rates increased roughly $130 per driver
In Alberta, where drivers can shop around for their auto insurance needs, they pay $400 less than drivers in BC for comparable coverage
The BC Budget shows ICBC is projected to lose another $890 million this fiscal year. In recent years, ICBC has cost taxpayers $1.3 billion in 2017/18, $612 million in 2016/17, and $293 million in 2015/16
To arrange a media interview with Richard Truscott, please contact 604-684-5325 or msbc@cfib.ca.
About CFIB:
The Canadian Federation of Independent Business (CFIB) is Canada's largest association of small and medium-sized businesses with 110,000 members across every sector and region, including 10,000 in BC. CFIB is dedicated to increasing business owners' chances of success by driving policy change at all levels of government, providing expert advice and tools, and negotiating exclusive savings. Learn more at cfib.ca