On April 7th, the Bank of Canada unveiled a commemorative $10 bank note to celebrate Canada's 150th anniversary of Confederation. The Canada 150 note will circulate along with the existing $10 note. It will be available to Canadians through their financial institutions starting on June 1st.  
The Canada 150 bank note celebrates Confederation with a unique design depicting our history, our culture and our land. It offers a number of security features, some new and others that are similar to those on the current series of polymer notes. These features make the note easy to check and difficult to counterfeit.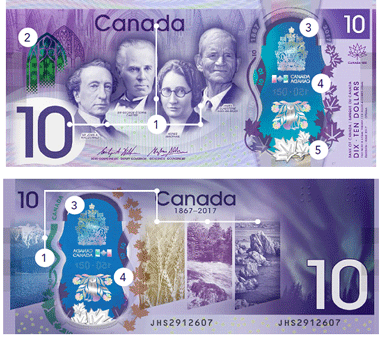 Raised ink:  Feel the raised ink on both sides of the note.  Front: on the large number, four portraits and the word "Canada" Back: on the four vertical landscape panels and the text "Canada 1867–2017".
Colour-shifting arch: Look at the checkered pattern in the arch. Tilt the note to see the pattern move up and down and shift from green to blue
Large window: Look for transparency through the large window containing metallic symbols and images. Flip the note to see the metallic elements in the large window repeated in the same colours and detail on the other side.
Metallic symbols and images: Look at the details in the coat of arms, Canadian flag and the owl. Tilt the note to see sharp colour changes in these metallic elements.
3D maple leaves: Look at the three-dimensional maple leaves that appear to be raised. Feel them to confirm that the surface is actually flat. 
The Bank is offering educational tools to help business owners learn about the security features and design elements. They also provide free training sessions and tools on how to check bank notes, and to answer questions such as what to do with a suspected counterfeit note.
Post Date: April 7, 2017