On a yearly basis, I have the opportunity to speak with thousands of business owners on a variety of topics. A common discussion point concerns the desire of business owners to maintain a healthy business and healthy employees, with a plan to ensure both for the future.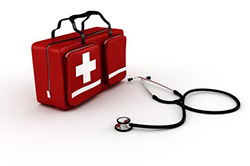 As often as possible, it is necessary to be proactive and ensure you are prepared in case of an emergency in your business.
Are you prepared if there is a natural disaster or any other circumstance that may limit your access to your business?
Ask yourself:
What are the risks with each role in your business?
How will you communicate with your employees if there is an emergency?
Do you have a back up to your records, documents and employee information?
Have you assigned managers or key employees to assist in evacuation?
If you have employees with a disability, do you have an emergency plan specific to their needs?
Be Proactive
There are many natural disasters that can prevent you from conducting business as usual. Read through the Government of Canada's list of hazards and emergencies by clicking here. It's a useful resource to identify the many possible threats to your business, including:
Business Continuity Plan
Have you considered creating a Business Continuity Plan (BCP)?
A BCP is a document written for the purpose of proactively identifying hazards and ways to minimize risk, ensuring your business experiences minimal disruption or can survive through a stressful period of time. Click here for variety of resources broken down by province.
There are different elements to consider when you're developing a BCP:
Create a team that can develop the plan
Identify roles and resources that are immediately needed
Training and creating awareness to ensure the plan is carried through by employees
Revise accordingly and ensure if roles change or employees leave the organization, the document is up to date.
Recovering from Disaster
An article from Business Development Canada with tips on how to ensure your business can operate after a disaster can be found here.
"Provide a safe work environment. Hire experts to inspect your premises for hazards."
"Contact suppliers and ask them to extend their terms, if necessary, to maintain cash flow in your business"
Here are templates that can be useful to you: Business continuity plan and templates for entrepreneurs
Quick Facts on the Role of Government
When a disaster has impacted several businesses and homes, there might be considerations from government for funding. Here are the basics of what you should keep in mind.
Employment Standards Considerations:
For most provinces, there are no requirements to pay employees while the business experiences a closure. However, contact a CFIB Business Counsellor or your provincial employment standards office to ensure you follow the right steps.
Service Canada Considerations:
If your business will not be operating and your employees will have interruption of earnings, you will be required to issue a Record of Employment.
Canada Revenue Agency:
If your business has been impacted severely, you may be eligible to apply for relief from penalties or fines – under the following conditions:
– extraordinary circumstances;
– actions of the Canada Revenue Agency (CRA);
– inability to pay or financial hardship; or
– other circumstances.
Last Thoughts
There are many factors that will challenge your business, such as environmental and internal factors – government, market trends, finances and skilled employment. The importance of preparing for an emergency is crucial – many people do not anticipate anything wrong happening, yet always keep in mind the following:
The lives of your employees are important and essential to your operations
The equipment and real property are essential to the value of your business
The customers you service daily expect your product/service and you will need them to recover sales to get back on your feet.
Keep your business and employees healthy and plan ahead with the resources provided above. You will appreciate having a process in place to avoid confusion and stress in the midst of potential chaos.
Protect your business! It is your legacy!

Author: Cesar Gomez, CFIB Business Counsellor
@josuegomezg
Cesar Gomez Garcia has been with the Canadian Federation of Independent Business for six years. His current role at the CFIB is helping our members, which are small business owners with their question on compliances. These questions can range from Employment Standards, Health and Safety, as well as complicated red tape situations that small business face today. His passion is reading and writing about entrepreneurship. Learn more about Cesar.
Post Date: June 28, 2016