Government challenged to reveal economic impact analysis of big minimum wage hikes | CFIB
New CFIB analysis shows minimum wage in Alberta has risen almost 4 times faster than inflation since 2005, calls for halt to further minimum wage hikes
CALGARY, April 2, 2018 – With six months to go until the final $1.40 jump to a $15 minimum wage on October 1st, the Canadian Federation of Independent Business (CFIB) today challenges the Alberta Government to come clean and publicly release its economic analysis on this aggressive policy, and calls for an immediate halt to any further increases until the Government can show it has done its homework about the impact on employment and the economy.
The CFIB also released new analysis that clearly shows the minimum wage has been rising at an unsustainable rate in Alberta, having increased almost four times faster than inflation over the past decade and a half.
Alberta: Minimum Wage Hikes vs Inflation, accumulated % change, 2005 to 2018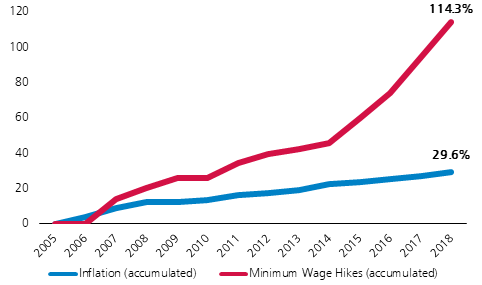 Sources: Statistics Canada, Bank of Canada
"Massive hikes in the cost of entry-level wages over the past few years have squeezed a growing number of small businesses. This steep and costly trajectory defies economic logic and simply cannot continue without more and more independent businesses getting squashed," said Amber Ruddy, Alberta Director.
Using Statistics Canada and Bank of Canada data, the Federation's new analysis shows the stark reality: inflation rose 30 per cent from 2005 to 2018, while the minimum wage skyrocketed by 114 per cent, almost four times faster.
"By increasing the cost of creating entry-level jobs so dramatically, the Alberta Government has left many employers in the small business community scrambling to cope. It has forced business owners to adopt a long list of cost cutting measures, such as eliminating entry-level jobs, reducing hours for existing staff, forgoing expansion plans, as well as eking out price adjustments if the competitive market allows. They have truly been stuck between a rock and a hard place," said Ruddy.
Reflecting on the rush to $15 an hour, Ruddy concluded: "At the end of it all, what has really been accomplished? What has been the impact on entry-level jobs? Where is the economic impact analysis? Has there been any discernible impact on take-home pay? There is a growing list of critical questions that policy makers can no longer avoid. Until they have much more informed answers, government must put a halt to any further rate hikes."
For more information, or to arrange an interview with Amber Ruddy, please call 403-444-9290 or email ms.alb@cfib.ca
CFIB is Canada's largest association of small- and medium-sized businesses with 110,000 members across every sector and region, including 10,000 in Alberta.