How to decide if your business should add a fee to transactions paid by Visa and Mastercard
The US has been able to surcharge credit card transactions since January 27, 2013

A recent survey of CFIB members found that 19% of merchants are considering surcharging customers when they pay by credit card

One-in-two businesses report credit card fees have increased in-store in the last 3 years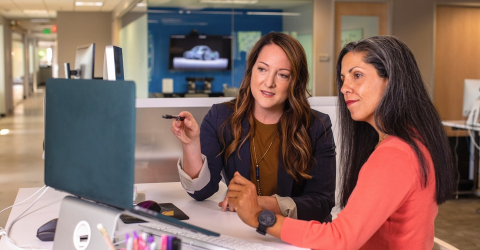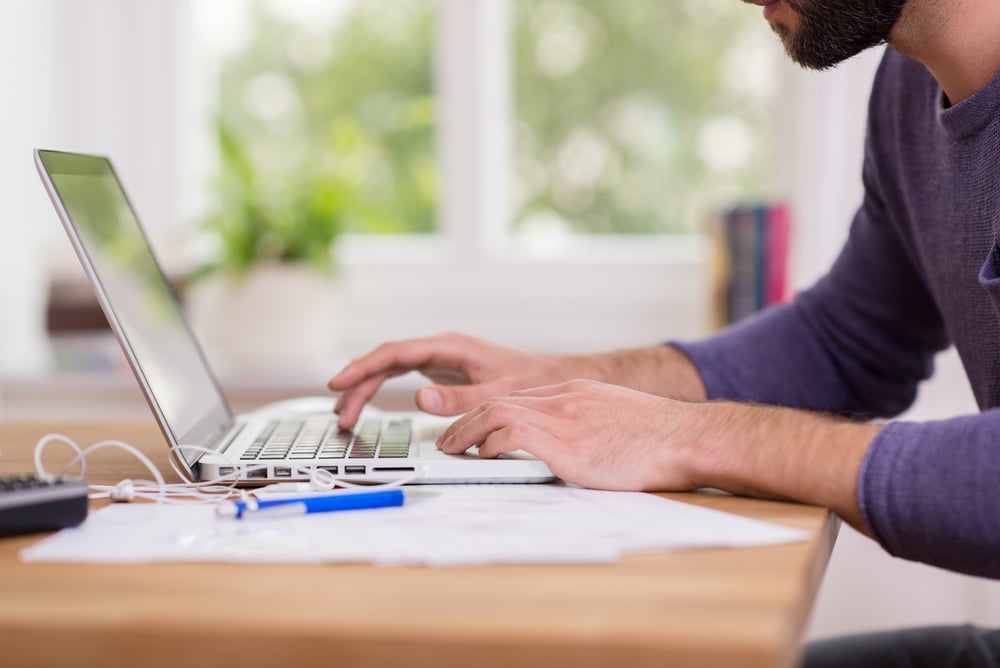 How Much You'll Receive
| Merchant size | Average annual revenue over the claim period | Amount you can receive per year you incurred merchant discount fees |
| --- | --- | --- |
| Small merchant | Less than $5 million | $30 / year (max $600) |
| Medium merchant | Between $5 million to $20 million | $250 / year (max $5,000) |
| Large merchant | $20 million + | $250 / year |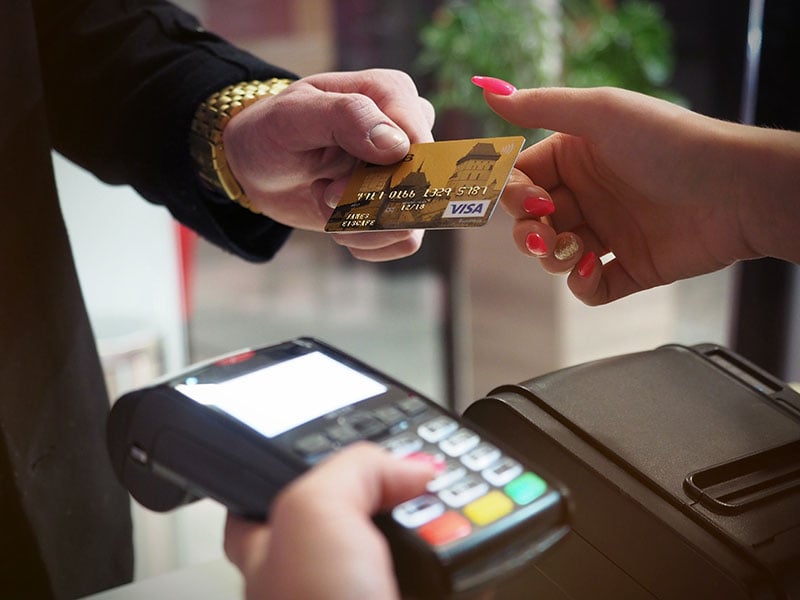 How to start surcharging?
Before beginning to surcharge credit card transactions there are certain considerations to be mindful of, and requirements to meet, to prevent complaints and consequences for the improper implementation of credit card surcharging.
What you need to know before deciding to surcharge credit cards
Does your business accept Visa or Mastercard?




Which payment processor do you use to accept credit card payments?



Which cards (product and brand) will you surcharge?


You can choose to surcharge specific credit card products and brands, however, you may also need to equally surcharge other competing credit networks depending on your agreement with the company that provides you access to credit card card networks (acquirer). Call your acquirer to learn more.





How much will you surcharge customers?
Surcharges are capped at 2.4% or the amount it costs you to accept those credit cards, whichever is less. This percentage or flat rate must be tied to the decision to pay with credit card rather than the good/service. The amount you charge will be your business decision.
How will you share the surcharge information with your customers?


Educating your customers about this change and its impact on them will be important to mitigating any misunderstandings. You will need to create posters to meet the surcharge disclosure requirements. To save you time and money, CFIB will be creating resources for you to use.
3 Notification requirements at least 30 days before Surcharging:
Step 1) Notify your credit card network
Notify Mastercard by completing their Merchant Surcharge Disclosure Form
Visa does not require direct notification or the completion of a form as they require acquirers to notify them
Step 2) Notify your acquirer
At least 30 days before surcharging, contact your acquirer to notify them you will want to start surcharging. We recommend that you send an email, then save the email and confirmation of receipt.
Approvals from your acquirer and processor to surcharge is not required if all the Visa and Mastercard surcharging requirements are met. When contacted, some acquirers and processors may state they are not ready to allow surcharging. This might be because their Point of Sales systems or equipment are not ready to facilitate the itemization and tracking of credit card surcharging. However, they should still be accepting notices of intent to surcharge credit card transactions. More on how to surcharge when your acquirer is not ready can be found in Step 4.
Below is a list of acquirers and links to how they would like you to notify them of your choice to surcharge. Below is a list of acquirers and links to how they would like you to notify them of your choice to surcharge.

This list will be updated as we learn more. Should you come across different/incorrect information please contact our business help line at 1-833-568-2342.

Acquirers & how to notify them about Surcharging:
Adyen Canada Ltd. – How to configure your POS surcharge
Bank of America Merchant Services (BAMS) – TBA
Chase – TBA
Desjardins – TBA
Elavon – Contact your Sales Rep or customer service (1-877-658-3884) to be put into contact with a Sales Rep.
Fiserv – TBA
Global payments – Will be ready to surcharge. More details TBA
Moneris – TBA. Call Moneris customer service (1-855-955-4891) to provide them with your name, phone number, and email. They will contact you when more information is available.
People's Trust – TBA
TD merchant solutions - Find details at TD Business Banking. Email your contact information to tdmscode@td.com
Nuvei – TBA
PSP Services Inc. – TBA
Step 3) Notify your clients (Recommended)
Avoid any misunderstandings by educating your clients directly about the new fee they can expect to see. Explain your reason for surcharging and advise them of alternative methods of payment that can be used to avoid the surcharge. Check out CFIB's template email notification for your customers.
3 Disclosure requirements when surcharging:
Step 4) Post a surcharge disclosure at the point customers enter your business or website
CFIB has a Point of Entry Surcharging poster available for download to ensure you meet all the Visa and Mastercard disclosure requirements for your points of entry here.

Step 5) Post a surcharge amount/percentage disclosure at the point of sale or transaction
This must be done both in-store and online. Should a sale be over the phone, this must be disclosed verbally. Download CFIB's Point of Sale Surcharging Poster which was created in partnership with the Credit Card Class Action lawyers to ensure small businesses meet all the Visa and Mastercard disclosure requirements here.
Step 6) Itemize the dollar amount clearly on the customer's receipt
This can be produced on the receipt provided by you, the cash register, or the point-of-sales machine provided by your credit card processor.
Some processors and acquirers may not be ready to facilitate surcharging. If this is the case for your business, you can try to contact your electronic cash register or point-of-sale system company to get more clarity on how to capture the amount of the surcharge, display the amount on the receipt, and pass that information to your acquirer. Please contact your acquirer to find out if they are ready to facilitate this requirement.
Printable Posters & Templates
Whether you are looking to surcharge or encourage consumers to use alternatives like debit or cash, CFIB has posters, checklists, and email templates to suit your business needs.
Templates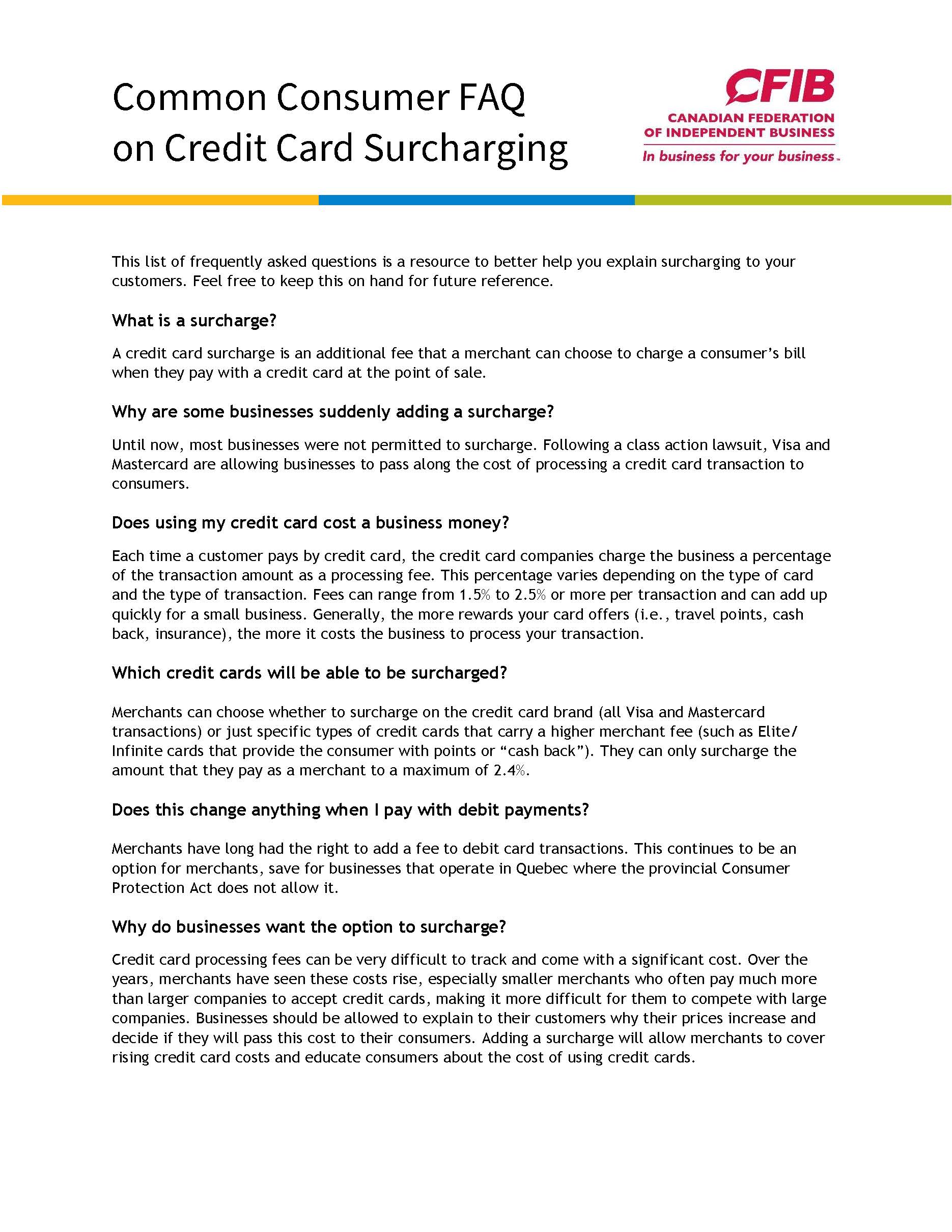 Consumer FAQ on Credit Card Surcharging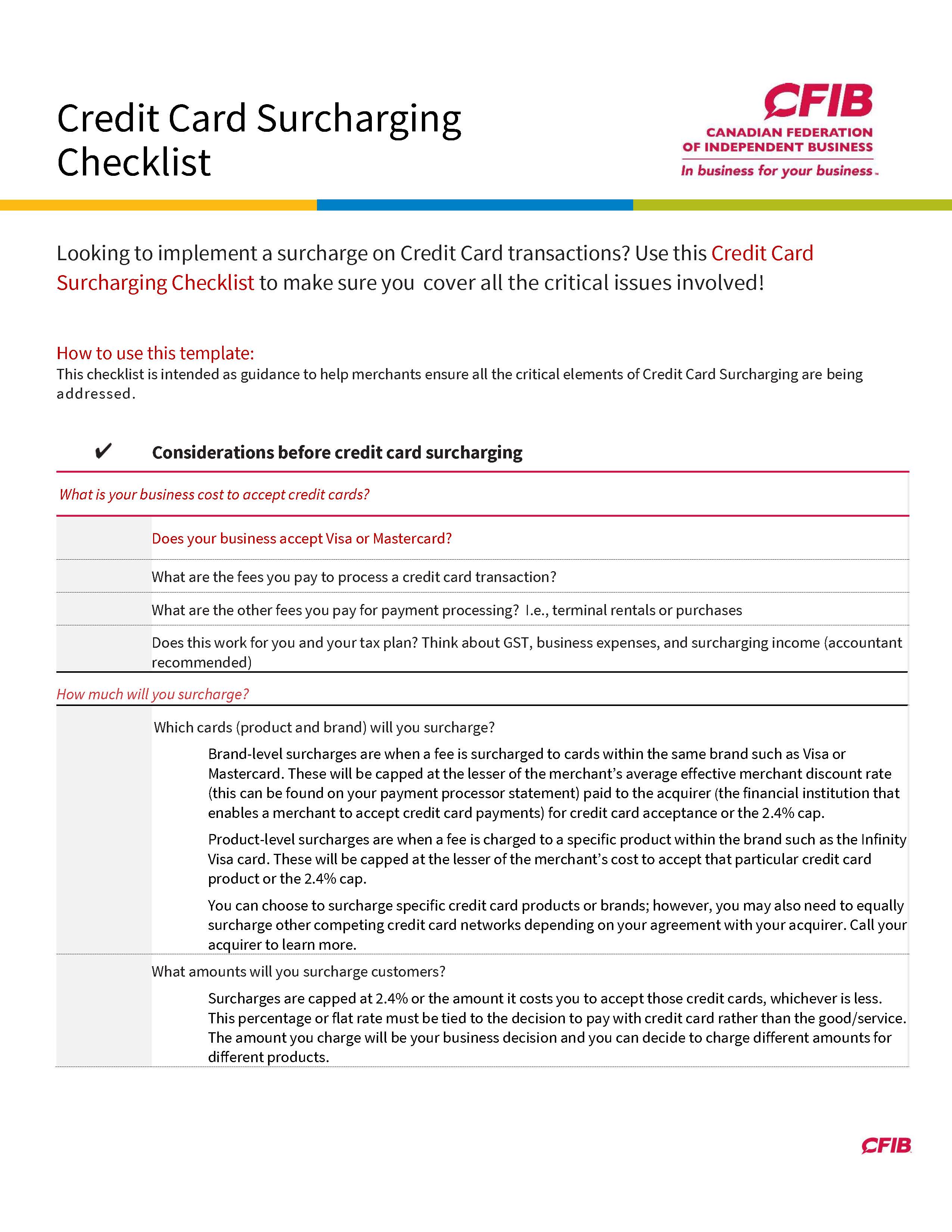 Credit Card Surcharging Checklist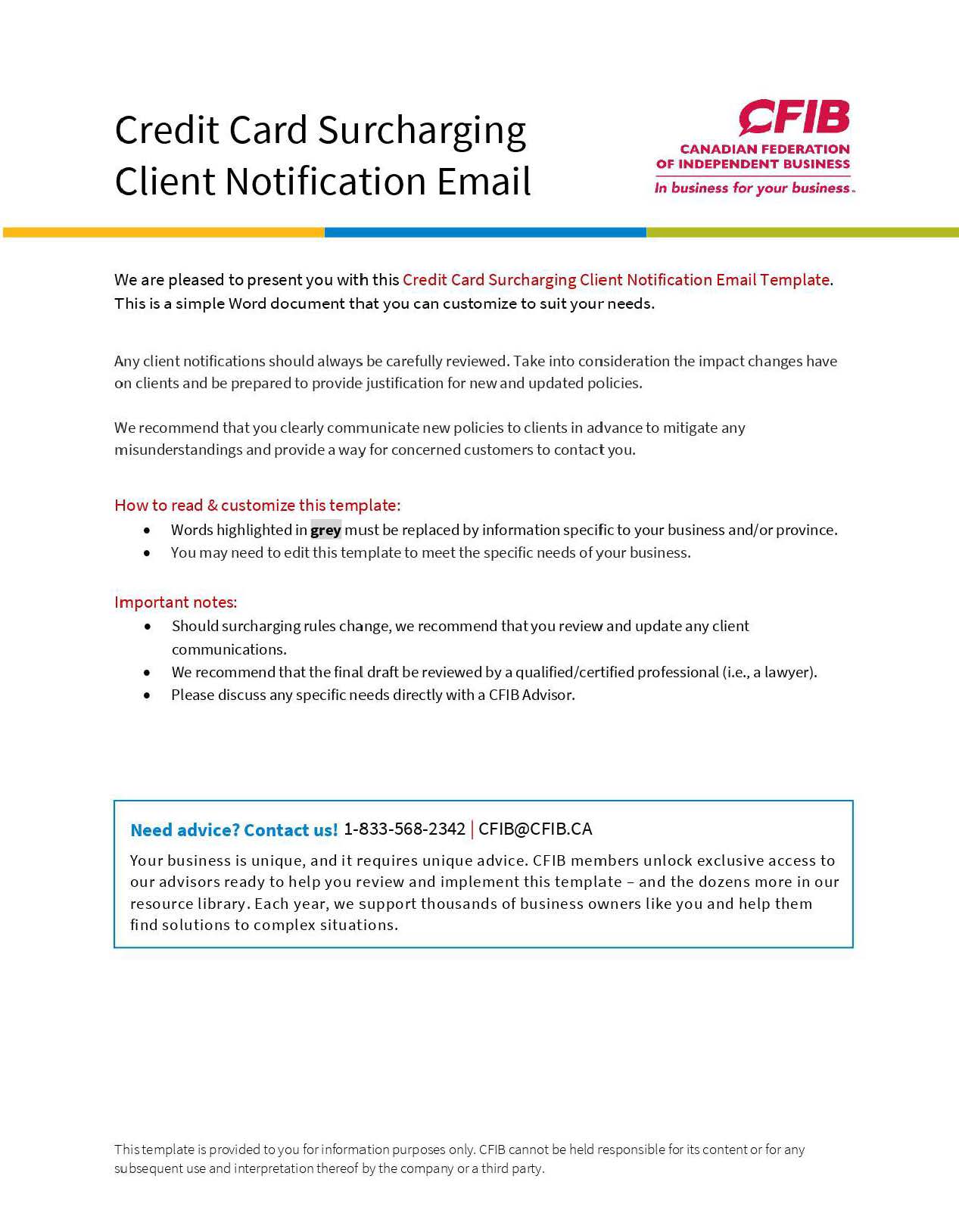 Credit Card Surcharging Client Notification Email Template
FAQ - Credit Card Surcharging
What is surcharging?
A credit card surcharge is an additional fee that a merchant can choose to charge a consumer's bill when they pay with a credit card at the point of sale.
Can I charge a fee on Interac payments?
Yes. The ability to add a fee to Interac debit card transactions has been and continues to be available to merchants.
Is a surcharge the same as a convenience fee?
A surcharge is different from a convenience fee.
A surcharge is any fee added to a transaction for using a credit card.
A convenience fee is a fee that merchants may impose on all transactions no matter the method of payment. These can include debit card transactions (Interac).

If a merchant is eligible to surcharge and impose a convenience fee, they cannot add both on the same transaction.
Can I surcharge my clients today?
After a 30-day notice period to Visa, Mastercard, your payment processor, and your clients you would be able to surcharge clients who pay using credit cards. More details can be found in How to start surcharging? section of this webpage

If your business operates in Quebec, the provincial Consumer Protection Act prevents you from surcharging consumers; however, you are able to surcharge other merchants.
Which credit cards will I be able to surcharge and by how much?
Merchants can pick and choose which credit card brands or products they would like to surcharge to a maximum of 2.4%. It will be your decision. You may decide to only surcharge premium cards that charge your business higher fees. The way you choose to surcharge may lower your surcharging maximum.
Brand-level surcharges will be capped at the lesser of the merchant's average effective merchant discount rate paid to accept credit cards or the 2.4% cap.
Product-level surcharges will be capped at the lesser of the merchant's cost to accept that particular credit card product or the 2.4% cap.
Can I surcharge in person, over the phone and for online transactions? 
Merchants can choose any or all environments in which they surcharge clients. For example, a merchant can choose to only surcharge on online purchases.
Can I decide to surcharge discounted or sale items only?
No, surcharges should be specific to the client's choice to pay for their transaction by credit card.
Should I register to surcharge as soon as it becomes available?
This depends on your business. Registering for surcharging will continue to be available for merchants moving forward. Should you wish to surcharge as soon as possible, please know that a 30-day notice period must pass before you can surcharge customers. 
Do I charge sales tax on the surcharge?
We are awaiting information on this. We have heard the disclosure could be as simple as a line item after the subtotal with a description indicating the amount is a surcharge. 
Who do I contact for technical issues with registering to surcharge?
Each credit card network has set up its own registration system to monitor who will begin surcharging. Please contact the credit card network and/or acquirer with whom you are registered. This will depend on the rules of your surcharging agreement.
What is the deadline to register?
There is no deadline to register, however, before implementation, there is a 30-day notice requirement. 
On a chargeback, do surcharge fees return to the customer?
On a chargeback, the purchase amount plus the surcharge should be credited to the cardholder. On a partial chargeback, the corresponding percentage of the surcharge should be returned. 
Does surcharging affect me if my business does not accept cash?
Businesses can decide which legal tender(s) to accept. Should a business only accept credit cards, they can still choose to surcharge credit card transactions; however, the customer must have the option to cancel their purchase if they do not want to pay the surcharge.
Is surcharging permitted in Quebec?
Consumer protection laws do not allow for surcharging on consumer transactions. This applies regardless of where the consumer resides. However, businesses may surcharge on business transactions (B2B), as consumer protection laws do not apply.
Can I surcharge a Visa Debit card?
No, this does not count as a Visa credit card and cannot be surcharged.
If we send invoices through QuickBooks Online and they are the payment processor, do we still have to notify the credit card networks?
Yes, credit card networks must still be notified.
Can a business surcharge all credit card transactions that meet a certain value threshold (e.g., anything above $100)?
Businesses can decide which transactions to surcharge when customers decide to pay with a credit card. However, it would be very difficult for a business to pick and choose who to surcharge as this might attract scrutiny by consumer protection groups. Should you wish to implement criteria that has not been suggested by the surcharging rules (e.g., by product or by type), we recommend that you seek legal advice, create a clear policy, ensure customers are made aware of the policy before the point of sale, and implement it with consistency.
Will a response be sent from Mastercard/Acquirers to merchants after they submit their email notification that they intend to surcharge?
No, after submitting the webform to Mastercard, an auto-response is displayed on the screen. No other notification will be sent to the merchant.

As for the acquirer, the merchant must ensure that they have provided written notice to the acquirer of their intention to surcharge prior to implementing the surcharge. The name of the acquirer or processor must also have been included in the Mastercard webform. It is recommended that merchants contact the acquirer to confirm that the written notice has been received.
If I change acquirers, do I need to notify Mastercard or Visa?
Visa has shared there is no need to disclose a change in acquirer to Visa as the responsibility is on the new/previous acquirer to notify them.

We are waiting on Mastercard for a response; however, a merchant could easily fill out the notice of intent form to notify them of the change.
What are payment card networks?
American Express Canada Discover, The Exchange, Interac, Mastercard Canada, Visa Canada and UnionPay make up the seven major operators of payment card networks in Canada. To participate in these networks, merchants need to establish a contract with a payment service provider, such as an acquirer which provides them with access to the payment card network.
What is an acquirer?
An acquirer is an entity that enables merchants to accept payments by credit or debit card, by providing merchants with access to one or more payment card networks for the transmission or processing of payments.
CFIB Takes On The Credit Card Industry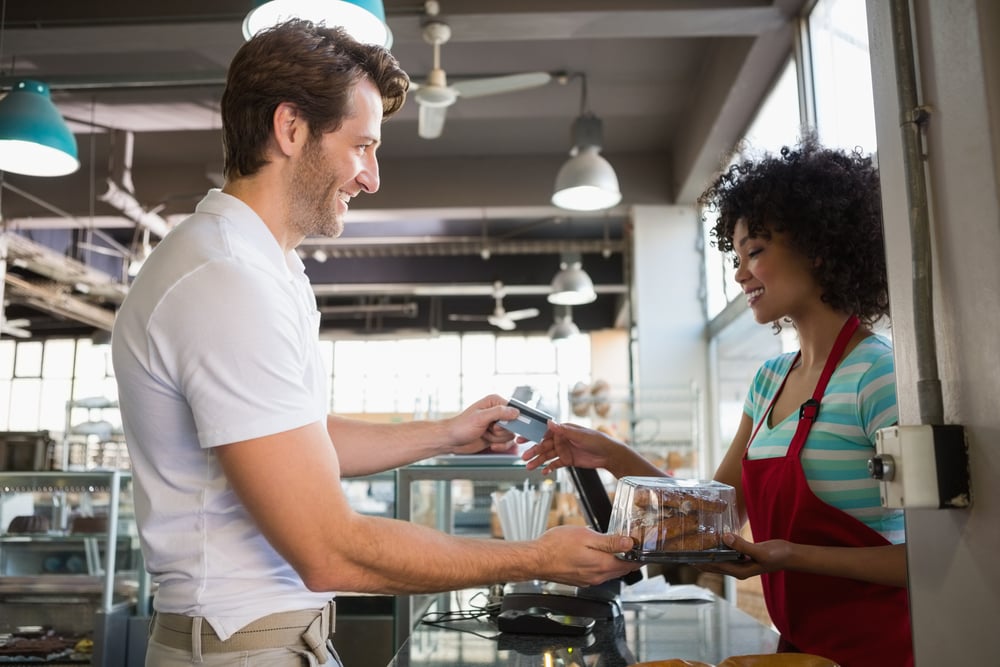 Save even more on your credit and debit processing costs with CFIB