2023 PEI Election: Overwhelming majority of business owners plan to vote, but many are undecided
Charlottetown, March 30, 2023 - Small business owners in Prince Edward Island (PEI) are gearing up to cast their votes in the upcoming election, and a recent survey conducted by the Canadian Federation of Independent Business (CFIB) sheds light on their top priorities.
The survey found that 70% of small business owners are prioritizing reducing provincial taxes and fees, while 67% are focused on reducing red tape and investing in healthcare. These issues are expected to significantly influence the voting decisions of small business owners on April 3rd.
According to the survey, 93% of small business owners in PEI have indicated they will be voting in the upcoming election. However, the survey also revealed that 40% of them remain undecided on which party to support. As election day approaches, it remains to be seen which political party will earn the backing of the small business community.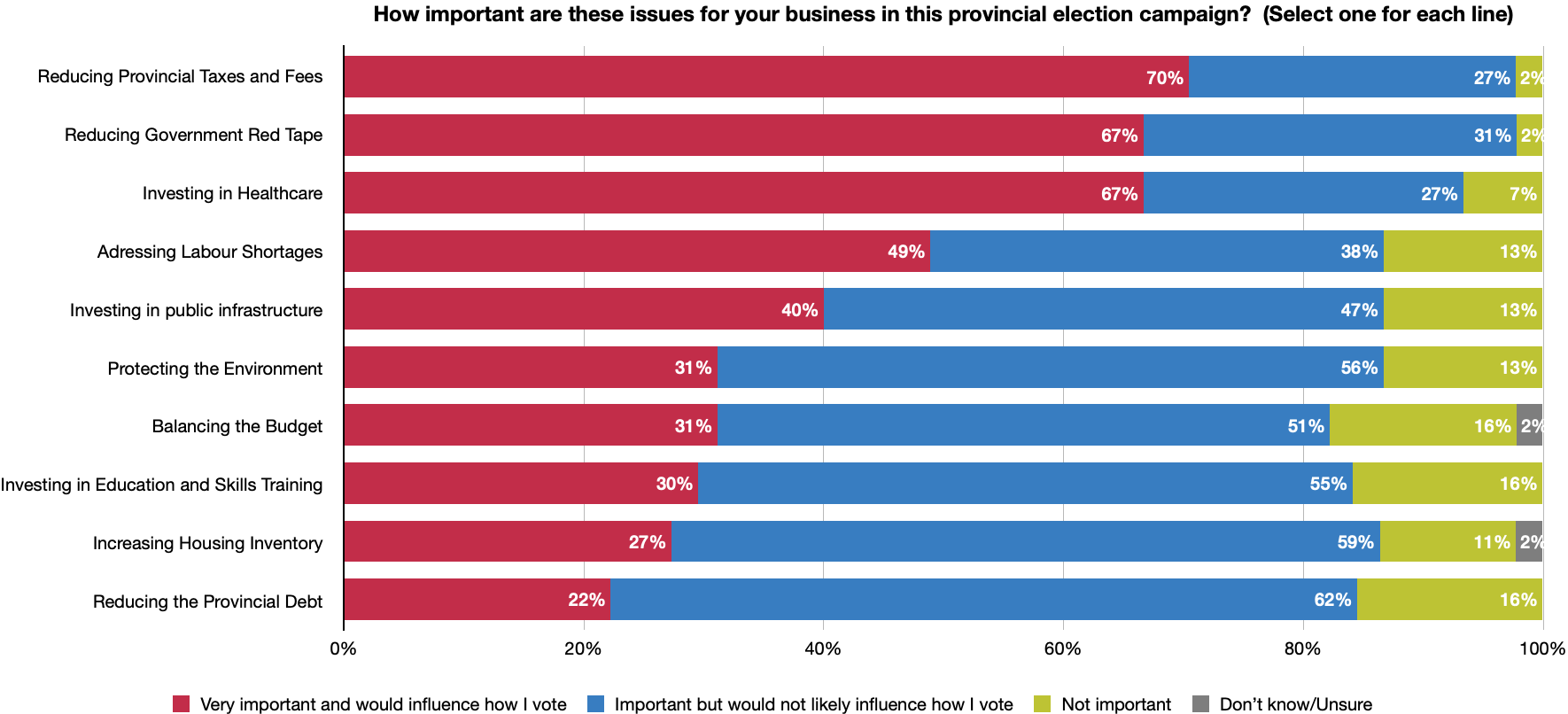 "With over half of responding members saying they do not believe they are receiving good value-for-money from provincial government services, red tape reduction continues to find itself in their priorities," said Frederic Gionet, CFIB senior policy analyst for Atlantic Canada.
The small business community in PEI remains concerned about taxes and fees, as indicated by 76% of respondents who support extending the small business tax rate threshold from $500,000 to $1M.
In addition, over 80% of small business owners consider the removal of tolls on the Confederation Bridge as crucial to cost reduction and essential for their business growth. These results underscore the need for political parties to prioritize the reduction of tax burden and cost-saving measures to boost the growth of small businesses.
CFIB also surveyed all four party leaders on their small business priorities. The leaders of the Liberal Party of PEI, Progressive Conservative Party of PEI, Green Party of PEI and New Democratic Party of PEI have all provided survey responses. CFIB is releasing the unedited responses to assist small business owners in making informed decisions on election day.
Responses to the 2023 Leaders' Survey on Small Business Issues:
"We encourage all small business owners to engage with their local candidates and ask how their party plans to support them," concluded Frederic Gionet.
For media enquiries or interviews, please contact:
Frederic Gionet
Senior Policy Analyst, Legislative Affairs, Atlantic
(506) 961-2793
frederic.gionet@cfib.ca
About CFIB
CFIB is Canada's largest association of small and medium-sized businesses with 97,000 members (900 in PEI) across every sector and region. CFIB works to increase the chances of business owners' success by advocating for policy change at all levels of government, providing expert advice and tools, and negotiating exclusive savings. Learn more at cfib.ca.