Ted Mallett, vice-president & chief economist
Simon Gaudreault, senior economist
Andreea Bourgeois, senior analyst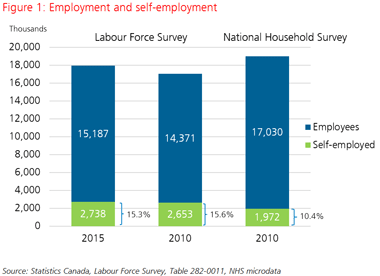 How Canadians earn a living
More and more Canadians are venturing out on their own, testing the entrepreneurial waters and looking to be their own boss. The monthly Labour Force Survey shows that roughly 15 per cent of Canadians are self-employed. The National Household Survey defines self-employment slightly differently--as the primary form of employment throughout the entire year--giving it a slightly lower proportion of the work force (about 10 per cent).
Differing growth patterns by form of business
Self-employment grew rapidly in past decades, but the pattern depends on the form of business. The share of incorporated self-employed with employees doubled through the 1970s and '80s. Growth in the numbers of those incorporated but on their own expanded more rapidly after 1990. Although still a sizable group, after a spurt of growth in the '90s, the presence of unincorporated businesses has tapered off.
One-in-three people own or work in a small business
Looking at the size distribution of enterprises by the number of people they employ, small businesses account about one worker in three--split evenly between the self-employed and paid employees. Mid-size and large private enterprises account for almost half of total employment while about one person in five works for the public sector.
The business cycle affects growth trends by size of enterprise
Relative rates of employment growth by type and size of enterprise have varied widely in the past decade. Growth of the public sector has been strongest and steadiest at 15.6 per cent. As a result of post-recession gains, employment in mid-sized enterprises has been almost as strong at 13.2 per cent.  Employment growth among large businesses has been somewhat less (10.8 per cent), but also most highly sensitive to business cycles.
Average business size is increasing
Overall, these trends suggest that private sector employment is becoming more concentrated. A measure derived by dividing the number of private sector employees by the number of self-employed employers (both incorporated and unincorporated) show the average size rising from about 12.5 employees per business in 2000 to 14.5 by 2015--a size gain of 16 per cent.
Sector-level growth is largely independent of firm-level growth
Total employment growth over time only gives us partial information on the dynamics of change in the economy. Even in slow-growth sectors, for example, we can still find large numbers of high-growth businesses. Since the recession, for example, total manufacturing employment has fallen, but about 4 per cent of manufacturing businesses are high growth.
Business churn is slowing
Business entries and exits also play a big part in shifting employment patterns. Churn rates can rapidly transform the business environment. In any given year, between 11 and 16 per cent of businesses either come into existence or leave the marketplace. Entry rates have been gradually declining after the recession, but they remain just above the exit rates--which mean the stock of businesses is still increasing.
Business ownership is a maturing process
Self-employment is generally something started in mid life--after one acquires work experience, capital and contacts. Among the self-employed only 13.1 per cent are under the age of 35, compared to 28.4 per cent of employees. At the other end of the scale, 31.6 per cent of self-employed are age 55 or over, compared to just 17.3 per cent of employees.
Trends in men- and women-owned businesses: different and equal
Men are more likely to own businesses than women, but the trends over time have followed similar paths. After significant gains though to the late '90s, the proportion of both men and women who are self-employed has leveled off.
The positive influence of immigration
To a small but consistent extent, first-generation new Canadians are more likely to be self-employed compared to native born. Some of this entrepreneurial influence is preserved through to the second generation.
Owning a business is most often a full-time activity
The amount of time spent working through the year depends on the nature of employment. Compared to employees in general, the incorporated self-employed, particularly those employing others are most likely to be working full time and for the full year.
Post Date: April 25, 2016