Are Gen X entrepreneurs missing the mark on social media? | CFIB
We hear a lot about the generational divide when it comes to digital technologies. As it turns out, this digital divide is not just a feature of individual relationships anymore. The same gap can be seen in how young and old businesses relate to the public, and each other.
Like my millennial nieces and nephews rolling their eyes at their Gen-X uncle's stubborn ignorance of the intricacies of Tinder dating, younger businesses are far more digitally-savvy than their older counterparts as well.
Whereas I'm a proud denizen of Gen-X slackerdom prone to dismissing earnest new applications ironically (yet still ready to adopt them if convenient), the younger members of my family see nothing strange in marketing themselves in multiple ways on various platforms, collecting 'likes' and mutual swipes as obsessively as I used to collect vinyl records. And while I am aware that there are a few hipsters out there who might be interested in my dusty old LP collection, I think it's fair to say that my nieces and nephews could have found a market for those old albums long ago.
Young business, like those young men and women in my family, seem to have the edge when it comes to fully embracing digital technologies. But don't take my word for it! This is but one of the take-aways from a new survey put out by the Canadian Federation of Independent Business(CFIB) that's sure to light a spark in the minds of Canada's budding young entrepreneurs.
According to the survey, Embracing technology in a digital age, businesses less than 5 years old are more likely to think of social media as integral to their start-up, with 72% thinking of it as an important part of their business model from the get go, whereas only 48% of firms that have been around for 10 years or more feel the same.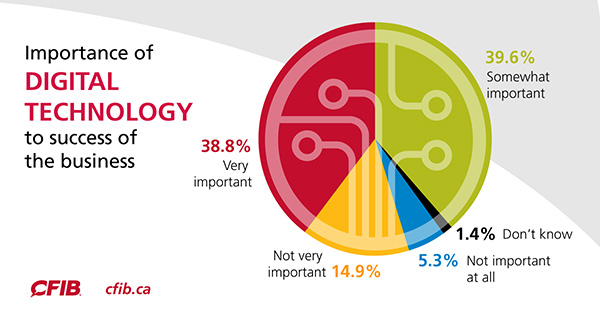 This could partially be explained by the fact that younger firms are extremely focused on marketing their business and are more familiar with social media tools and their benefits, whereas older businesses may be more established and already have a strong client base, and therefore do not feel the need to publicize their activities quite as much.
Like the common refrain that the youth of today spend far too much time, money and mental energy on their phones checking Facebook, Twitter and the like, some of the barriers to digital adoption, according to older firms, is that they find these digital tools too time-consuming, too costly and (surprise, surprise – for us 'old timers' anyway) too difficult to understand.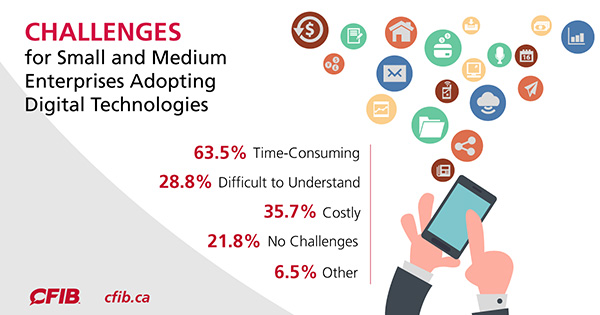 Millennials view technology as a critical part of their life and work. They are constantly "on," and connected. They tend to embrace new technologies for socializing and working, and adapt quickly. By contrast, Gen X'ers mainly use technology for purposes of convenience, such as online banking and shopping. This same disconnect regarding the purpose and use of new technologies can be applied to younger and older firms respectively.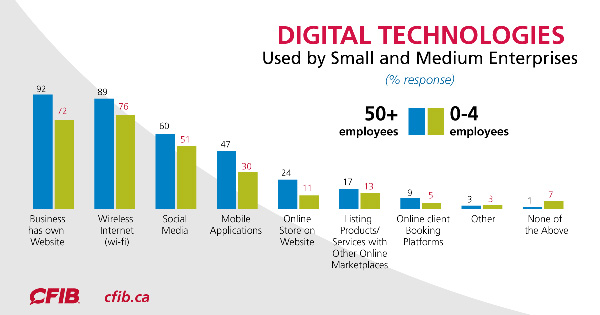 Not all differences can be chalked up to age though. One interesting item from the survey that goes beyond that particular divide is the type of social networking sites certain businesses use. Businesses that deal directly with consumers, such as retailers and those in hospitality or recreation, are much more likely to be using Facebook, Twitter and Instagram. Alternatively, businesses that primarily deal with other businesses, such as those in finance, insurance and professional services, are much more likely to use LinkedIn.
Size matters too. Larger companies of 50 employees or more make use of social media platforms like Twitter more than smaller businesses with less than five employees (see chart). This may be due to the fact that larger businesses have the capacity to hire younger, more linked in social media experts, if needed, to set up and manage these accounts compared to a smaller business that may find it difficult to access such resources and therefore may choose to focus on just one social media platform if they choose to engage in social media at all.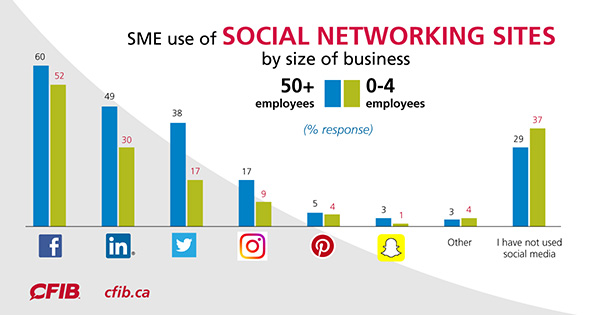 As the study reveals, 34% of respondents are not using social media at all, and while this figure has been trending downward for many years now, it shows that there's still more that can be done to assist older, smaller firms in adopting the technologies that will keep them competitive, agile and safe from the collective eye-rolls of the younger crowd.
Join us Friday when we outline some of actions CFIB recommends policy makers take to help older, smaller firms connect with the next generation of entrepreneurs, such as providing simple, cost-effective, "off-the-shelf" digital tools for small business, creating a website of such tools to enhance digital literacy and introducing a "digital technology deduction" so a business can write-off their investment in the year of purchase.
____________________________
John Studd
With over 15 years of experience in communications, John has spent most of his career in Europe and Asia working with a long list of clients on a large number of projects. He particularly likes working on behalf of small- and medium-sized enterprises in his present role as Media Writer for the Canadian Federation Independent Business (CFIB). He's also been a small business person himself, establishing a rather successful translation company in Prague that in its heyday employed three teams of translators.