Nova Scotia 2021 Election: 92 per cent of business owners set to vote – Four out of ten remain undecided | CFIB
Halifax, August 13, 2021 – Small business owners are prioritizing investments in health care, reduced provincial taxes / fees and red tape reduction as they head to the polls on August 17 for the Nova Scotia election.
Asked about the level of importance for their businesses of various measures in an election survey by the Canadian Federation of Independent Business (CFIB), business owners indicated investments in health care (67 per cent), reducing provincial taxes and fees (61 per cent) and reducing red tape (59 per cent) are important and will influence how they vote.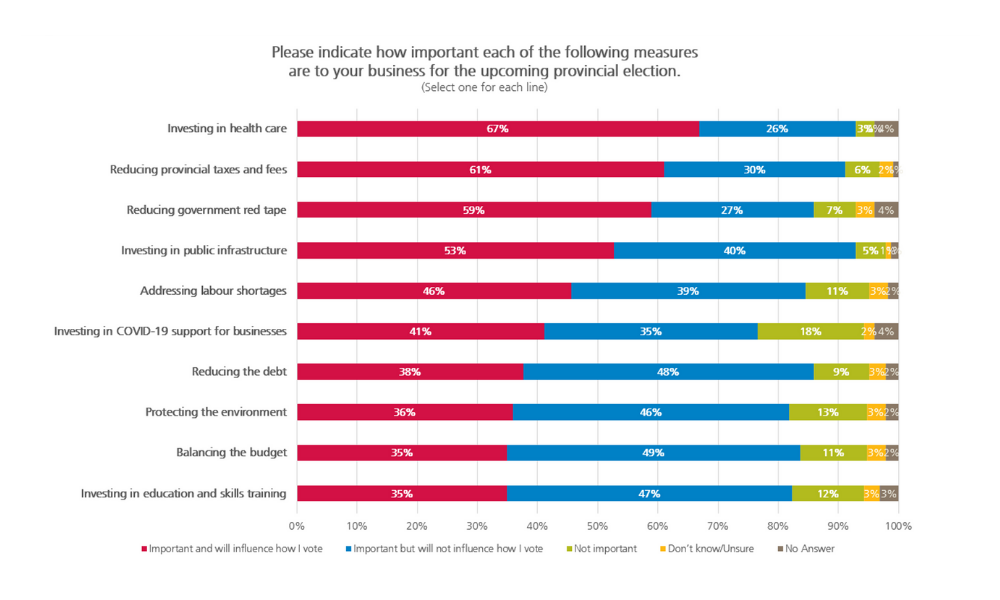 "With 60 per cent of responding members indicating they do not believe they are receiving good value-for-money from provincial government services, red tape reduction continues to find itself in their priorities," said Louis-Philippe Gauthier, CFIB's Senior Director, Legislative Affairs, Atlantic. "With 79 per cent of small businesses in Nova Scotia reporting they have not fully recovered from the pandemic1, making it as easy as possible for them to operate is one way the provincial government can help."
CFIB's latest dashboard shows that in Nova Scotia 67% of small businesses are fully open, 48% are fully staffed and only 33% are making normal sales. CFIB recently sent a letters to all provincial governments urging them commit to a "stay open plan". Further lockdowns or the implementation of significant business restrictions would be both financially and emotionally devastating for many business owners.
As a non-partisan organization, CFIB released last week the full results of its Leaders' Survey on Small Business Issues. The leaders of the Nova Scotia New Democratic Party, Nova Scotia Liberal Party and Progressive Conservative Party of Nova Scotia all provided survey responses.
Responses to 2021 Leaders' Survey on Small Business Issues
"We continue to encourage all small business owners to ask their candidates how their party plans to create positive conditions for their businesses and the Nova Scotia economy as they head to the polls." concluded Louis-Philippe Gauthier.
The CFIB Nova Scotia Election Survey preliminary results are based on 226 responses received from Nova Scotia business owners between July 28 and August 10, 2021 (survey ongoing). Results are statistically accurate within +/- 6.5 percentage points, 19 times out of 20.
1 CFIB, Your Voice – August 2021 Survey, preliminary results, August 5 – 10, 2021, n= 2,646.
To arrange an interview with Louis-Philippe Gauthier, please call (506) 961-5706 or e-mail Louis-Philippe.Gauthier@cfib.ca. Follow CFIB Nova Scotia on Twitter @cfibNS.
About CFIB
CFIB is Canada's largest association of small- and medium-sized businesses with 95,000 members (3,900 in Nova Scotia) across every sector and region. CFIB is dedicated to increasing business owners' chances of success by driving policy change at all levels of government, providing expert advice and tools, and negotiating exclusive savings. Learn more at cfib.ca.