Paperweight Awards: Nominate your #RedTape nightmare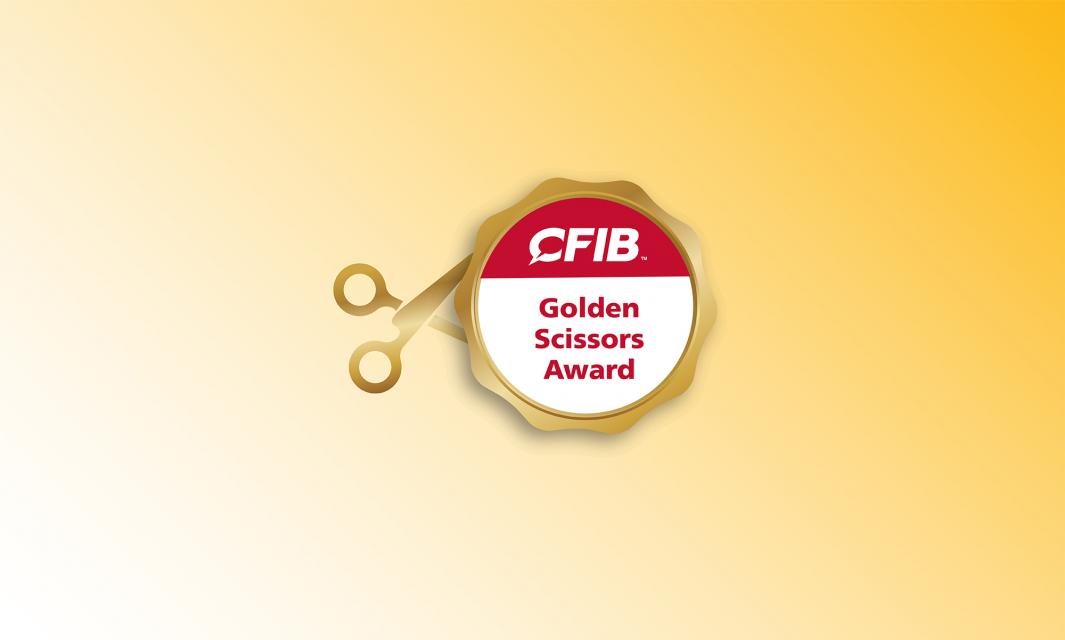 Golden Scissors Awards through the years
2022: Two Winners!
The 2022 Golden Scissors winners are being recognized for the following ground-breaking actions:
The Alberta government, for passing Bill 49 – the Labour Mobility Act, which makes it easier to recognize out-of-province certifications in more than 100 regulated occupations, including optometrists, dental assistants, pharmacists, firefighters, veterinarians, social workers, accountants, and engineers. Now people in these occupations can start working in the province without having to undergo additional exams, education, or re-certification.
The Nova Scotia government, for its Reducing Physician Administrative Burden Initiative. The initiative started with a direct survey of doctors to help identify the overall red tape burden and quantify how much was unnecessary (such as duplicate paperwork, and antiquated procedures). It found unnecessary red tape amounts to the equivalent of 1.5 million patient visits. Work to date includes removing barriers to which health zones doctors can work in and simplifying medical intake forms such as social assistance documents.
Learn more about the 2022 winners and honourable mention list
2021: Raising a glass to red tape reduction
Instead of doling out Golden Scissors Awards to a select few winners, we're recognizing governments across the country who gave us something to celebrate: alcohol regulations fit for the 21st century.
Whether it was provinces allowing beer and wine to be sold with takeout orders, or municipalities who eased their patio rules and applications, politicians across Canada served up a big glass of sanity. Cheers!
2020: Three winners across Canada
In 2020, we celebrated three winners and two honourable mentions spanning five provinces.
Meet the winners:
Quebec Minister of Public Security, Geneviève Guilbault, for eliminating Quebec's redundant permit requirements for bowling alleys and amusement equipment in response to receiving a Paperweight "Award" in 2019.
The Government of Manitoba (represented by Premier Brian Pallister),

for their major overhaul of government systems, increasing accountability and transparency for citizens and breaking down silos between government departments.
Alberta Associate Minister of Red Tape Reduction Grant Hunter, who directs the province's list of red tape initiatives and invites citizens and businesses to submit their red tape headaches to the Cut Red Tape website to be reviewed and addressed.
CFIB also awarded two Golden Scissors honourable mentions:
Ontario Deputy Minister, Small Business and Red Tape Reduction Giles Gherson and the Business Relief Unit, which investigates red tape issues submitted to its "Cutting Red Tape" web portal and works directly with lawmakers to address them.
Saskatchewan Minister of Trade and Export Development Jeremy Harrison, for creating a "Help Cut Red Tape" web portal that lets business owners fast-track their red tape concerns.
Learn more about 2020's crusaders.
2019: Four winners!
In 2019, we celebrated four people who scored great victories in the fight against red tape:
At the federal level,

former Treasury Board President Scott Brison

won for his commitment to reducing federal red tape on a yearly basis.
Ontario Premier Doug Ford

was recognized for his major overhaul of harmful labour rule changes, and his leadership on cross-government red tape reduction for small businesses.
In

Nova Scotia, Premier Stephen McNeil

and

Halifax Mayor Mike Savage

were awarded for teaming up to create the Joint Project for Regulatory Modernization.
Find out more about the 2019 winners and finalists.
2018: Manitoba's ambitious plan
In 2018, we recognized Manitoba Premier Brian Pallister and Finance Minister Cameron Friesen, for instituting an ambitious red-tape reduction plan! The province's "2-for-1" rule will see two old regulations scrapped for every new one introduced, and it has already updated 15 pieces of legislation to get rid of unnecessary rules in industries from agriculture to auto repair.
The honorable mentions were:
Hon. Diane Lebouthillier, Minister of National Revenue, for allowing small business owners to distribute T4s electronically to their employees.
Nova Scotia Office of Regulatory Affairs and Service Effectiveness – Business Navigation Service, for pioneering innovative, personalized ways to help small businesses comply with regulations.
Hon. Dominique Vien, Quebec's Minister of Labour, for loosening an inflexible rule around voluntary construction work.
Find out more about the winners and finalists.
2017: B.C. creates Red Tape Reduction Day
British Columbia Premier and Minister of Small Business win the award, for introducing an annual Red Tape Reduction Day, leading to the repeal of 37 unnecessary pieces of legislation. The Day also resulted in streamlined online applications for certain permits and more than 200 scrapped regulations.
Honorable mentions
Fred Crooks, Chief Regulatory Officer, Nova Scotia: For offsetting each regulation with a cost reduction for businesses.
Lise Thériault, Deputy Premier, Québec: For setting a goal of reducing red tape costs by 10% by 2018.
Brad Duguid, Minister of Economic Development, Ontario: For introducing an online portal (the Red Tape Challenge) where Ontarians can submit ideas of red tape to cut.
Canadian Food Inspection Agency: For setting up a user-friendly online resource for agri-businesses with questions about regulations.
2016: A special task force in Québec
Quebec ministers Sam Hamad (Minister of Labour) and Jean-Denis Girard (Minister of Small and Medium Enterprises) are recognized for creating a red tape task force—and implementing 90% of its recommendations!
Honorable mentions
Premier Stephen McNeil, Nova Scotia: For leading the charge on an agreement between the provinces to recognize each other's apprenticeship programs, allowing Canadians to find more work across the country.
Nancy Heppner, Minister of Infrastructure and Jeremy Harrison, Minister of Trade, Saskatchewan: For harmonizing Saskatchewan's truck regulations with Alberta's, to facilitate transportation between the two provinces.
Alan McIsaac, Minister of Agriculture and Fisheries, Prince Edward Island: For allowing farmers to register vehicles once, rather than re-registering every year.
2015: Payroll taxes made easier
Minister of National Revenue Kerri-Lynne Findlay wins for a small, but powerful change to the way small businesses like yours remit payroll taxes to the CRA. Many small businesses can now send in payroll taxes biweekly or monthly, rather than weekly.
Honorable mentions
Naheed Nenshi, Mayor of Calgary: For leading the Cut Red Tape initiative, which saved the city's small businesses $2.8 million.
Diane Whalen, Finance Minister, Nova Scotia: For eliminating a regulation that would have required scrap metal dealers to collect sellers' personal information.