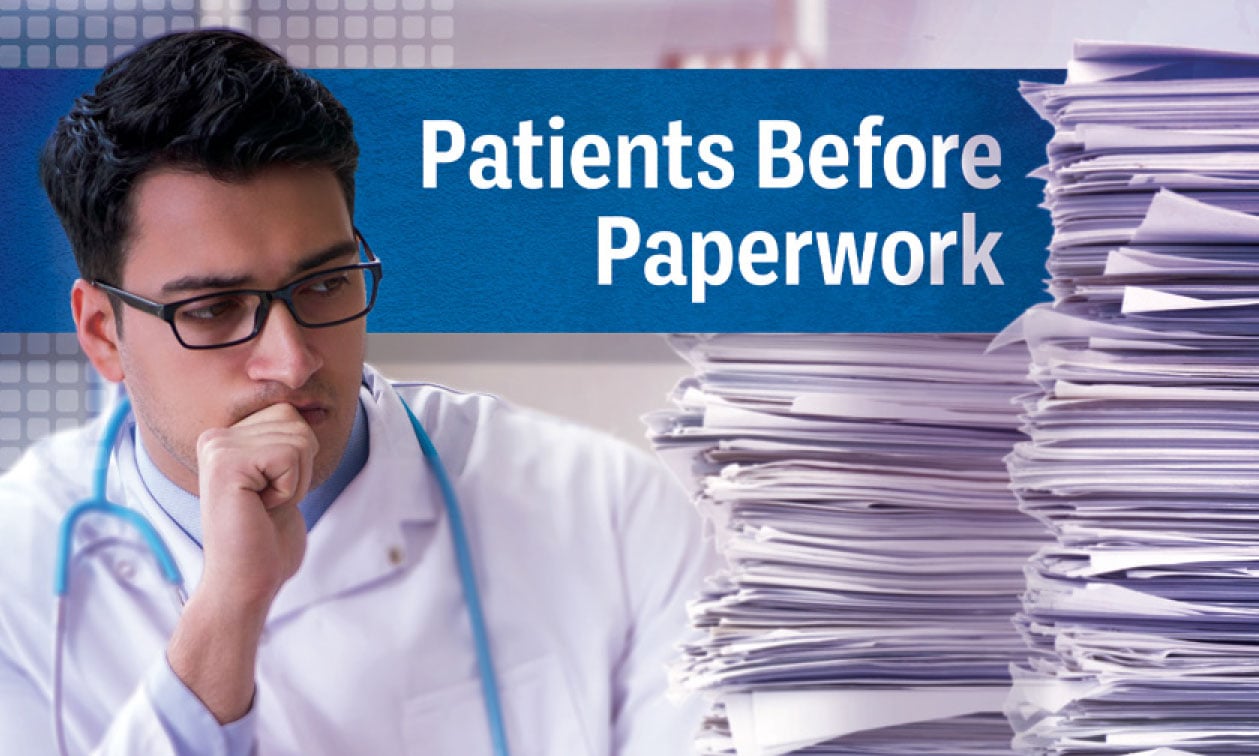 Executive Summary
Health ministries across Canada are facing many complex challenges. A chronic shortage of health professionals, an aging population, and capacity constraints all have put pressure on the health care system and the physicians who support it. Recent survey data shows this is also a priority for small business owners, with 60% wanting governments to place a high priority on addressing challenges in the health care system. Governments will need to consider a broad range of innovative solutions to ensure doctors are able to provide timely care to patients. Nova Scotia leads the country with its efforts to implement one such solution: reducing physician red tape.
Physician advocacy groups have consistently identified red tape as an obstacle that detracts from patient care and contributes to physician fatigue and burnout. "Red tape" in this context refers to unnecessary paperwork or administrative tasks and includes work that doesn't require a physician's clinical expertise - and could therefore be completed by someone else - and work that is wholly unnecessary and could be eliminated. Red tape negatively impacts patient care by limiting both the time physicians can spend caring for existing patients and the number of new patients doctors can take on. Put simply, red tape makes it harder for doctors to do what they do best: care for their patients.
The Government of Nova Scotia has been a leader in working to address this problem. Nova Scotia's Office of Regulatory Affairs and Service Effectiveness, in partnership with Doctors Nova Scotia, recently led an innovative project to quantify physician administrative burden, better understand its impact, and identify ways to reduce it. The results are compelling: each physician in Nova Scotia spends the equivalent of more than one full day per week (10.6 hours) on administrative tasks, which amounts to 1.36 million hours annually equivalent to 1.73 million patients visits annually. The study identified the portion of administrative work that is unnecessary (38%), including work that could be completed by someone other than a physician (24%), and tasks that could likely be eliminated (14%).
In response to these findings, the Nova Scotia government has committed to reducing physician red tape by 10% - roughly 50,000 hours - by 2024. To accomplish this, Nova Scotia's Office of Regulatory Affairs and Service Effectiveness has worked with doctors to identify specific forms and processes that can be shortened, eliminated, or completed by someone other than a doctor, and is publicly reporting on its progress. The time that these initiatives will save is equal to 150,000 patient visits, demonstrating that even a relatively small reduction in red tape can have a significant impact. CFIB recognized Nova Scotia for its efforts in February 2022 with a CFIB Golden Scissors Award for demonstrating leadership in cutting red tape.
Using Nova Scotia's data as a benchmark, this report estimates the physician administrative burden across Canadian provinces and territories. We then calculate what this represents in total patient visits. These estimates are intended to illustrate the potential impact that reducing physician red tape could have in different jurisdictions.
Our analysis finds that across Canada, physicians are spending 18.5 million hours each year on unnecessary administrative work - the equivalent of 55.6 million patient visits. By setting a target to reduce physician red tape by 10%, governments across Canada could reduce physician fatigue and burnout, improve the quality of patient care, and save the equivalent of 5.5 million patient visits a year.
While by no means a panacea for the myriad challenges facing Canada's health care system, reducing physician red tape is a measurable, concrete action that governments can take. CFIB recommends that other provincial and territorial governments work with their respective medical associations to estimate the administrative burden and its impact in their jurisdictions, identify key red tape irritants to resolve, and set measurable targets to reduce physician red tape.
Related Documents
| Release Date | Report | Download |
| --- | --- | --- |
| January 2023 | Patients before paperwork: Nova Scotia's approach to improving patient care by reducing physician red tape | PDF (2.28 MB) |