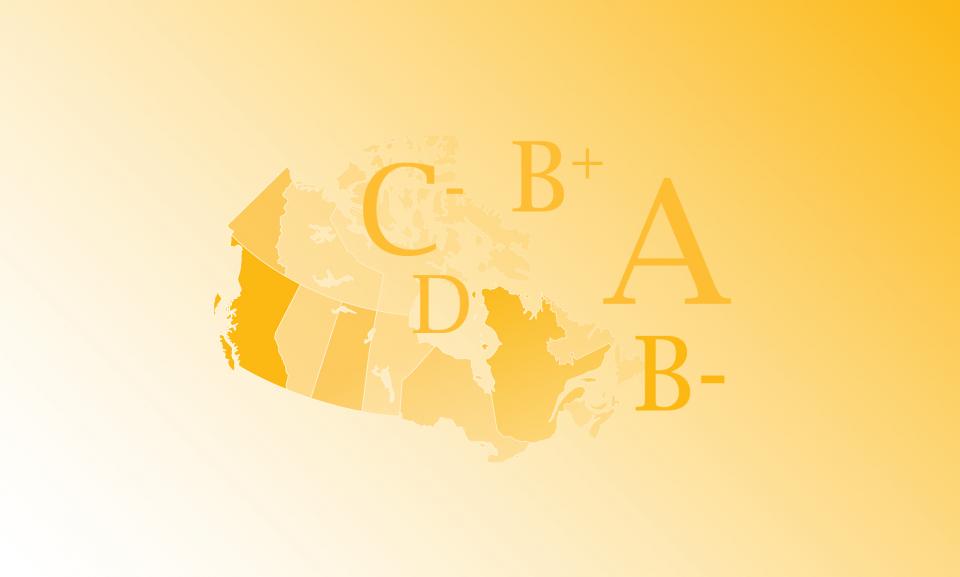 Introduction
The Canadian Federation of Independent Business's (CFIB) 2022 Provincial Red Tape Report Card grades two major areas of regulatory performance: regulatory accountability, and regulatory burden. Within this framework, governments with the highest overall scores are those that have a comprehensive measure of their regulatory burden, maintain some form or regulatory budget, and are making efforts to minimize red tape.
Grades are highest for the accountability section of the report card. Most provinces now have some form of measurement, reporting and budgeting, generating a lot of "A" grades where a decade ago there were none. This part of the report card represents 60 per cent of the overall grade.
Burden remains the more challenging section of the report card as it is difficult to find data with which to compare provinces. We currently use seven indicators that include some broader ones such as the data showing regulatory restrictions from legislation and regulation as well as some more specific indicators such as whether the province allows wine to be shipped from another province. Shipping wine is symbolic of provincial will to work together to reduce irritants and has been an outstanding irritant for decades. The burden section represents 40 percent of the grade. See the table below for an overview of the grades.
Table: 2022 Provincial Red Tape Report Card ─ Areas of Regulatory Performance, Score and Grade1, 2, 3

Jurisdiction

Regulatory Accountability (60%)

Regulatory Burden




(40%)

Overall Score and Grade

Manitoba
10.0
A
8.4
B+
9.4
A
Alberta
10.0
A
7.0
C
8.8
A-
British Columbia
9.3
A
7.6
B-
8.6
B+
Nova Scotia
10.0
A
6.3
C-
8.5
B+
Saskatchewan
9.7
A
6.7
C
8.5
B+
Ontario
10.0
A
5.6
D
8.3
B+
Quebec
9.3
A
5.5
D
7.8
B
Prince Edward Island
8.0
B
5.0
D-
6.8
C
New Brunswick
4.7
F
4.7
F
4.7
F
Newfoundland and Labrador
2.3
F
3.8
F
2.9
F
Federal3
7.3
C+
Not scored
Not scored
Not scored
Not scored
Score: 10 is best, 0 is worst. Using a weighting scheme, the three subindex scores are combined into a single score that allows for a ranking of provincial governments from best (highest score) to worst (lowest score). In order of importance, the different areas are assigned the following weights: regulatory accountability─60%, regulatory burden─40%.
Grade: A, A-: 8.7-10 (Excellent performance); B+, B, B-: 7.5-8.6 (Good performance); C+, C, C-: 6.3-7.4 (Satisfactory performance); D+, D, D-: 5-6.2 (Less than satisfactory performance); F: 0-4.9 (Unsatisfactory performance).
The federal government is scored only for regulatory accountability and does not enter the overall analysis to determine provincial rankings.
Related Documents
| Release Date | Report | Download |
| --- | --- | --- |
| February 2022 | Provincial Red Tape Report Card, 2022 | PDF (1.02 MB) |
| January 2021 | Provincial Red Tape Report Card, 2021 | PDF (890 KB) |