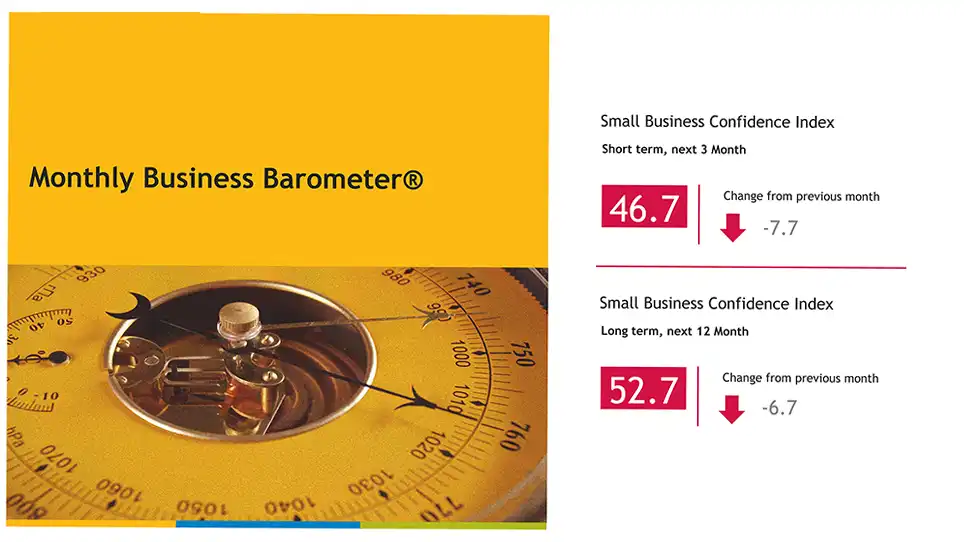 July 2022 Results
Canada's small business confidence over the short and long-term fell considerably in July.
CFIB's Business Barometer® short-term index, based on 3-month forward expectations for business performance, declined to 46.7 following a significant drop of almost eight points. The long-term optimism index, which is based on a 12-month outlook, fell nearly seven points to 52.7 marking the fourth consecutive decline in optimism for both indicators.
Provincial Outlook
Confidence over the short term and long term deteriorated in all provinces. Ontario, and NL registered the lowest levels of confidence over the short term and long term also. PEI is still leading the country in short term optimism (71.2) and has healthy levels of confidence over the long term also (63.0).
Sectoral Outlook
Sectoral outlooks are also substantially declining. The retail and agriculture sectors are both at the bottom in short and long-term optimism. While hospitality is leading the country in confidence over both time horizons, the index levels fell significantly over the next 3 and 12 months also.
General Business Indicators
Among other business indicators, all have seen signs of worsening conditions. The general state of business indicator shows only 32% of firms being in a good situation. Full-time hiring plans show 20% of firms looking to increase staffing while 17% are looking to lay off. Average future price plans (4.7%) and average wage plans (3.4%) are coasting at high levels still.

The major limitation on business growth is by far labour shortages currently at 52% for shortages of skilled workers and at 39% for unskilled workers–both being very high and getting worse by the day. Fuel and energy costs are the top cost constraint on businesses; currently affecting the majority of small firms (76%).
Methodology
July findings are based on 734 responses from a stratified random sample of CFIB members, to a controlled-access web survey. Data reflect responses received from July 5 to the 13. Findings are statistically accurate to +/- 3.6 per cent 19 times in 20. Every new month, the entire series of indicators is recalculated for the previous month to include all survey responses received in that previous month.
Measured on a scale between 0 and 100, an index above 50 means owners expecting their business's performance to be stronger over the next three or 12 months outnumber those expecting weaker performance. An index level near 65 normally indicates that the economy is growing at its potential.
The August Business Barometer will be released on August 25.
Andreea Bourgeois, Director of Economics
Simon Gaudreault, Vice-President, Research and Chief Economist
Related Documents
Release Date
Report
Download
July 2022
Business Barometer

®

National Summary
PDF (1.3 MB)
July 2022
Business Barometer

®

Provincial Summaries
PDF (510 KB)
July 2022
Business Barometer

®

Industry Summaries
PDF (593 KB)
July 2022
Business Barometer

®

Data Table
Excel (415 KB)
April 2020
Business Barometer

®

Questionnaire
PDF (804 KB)