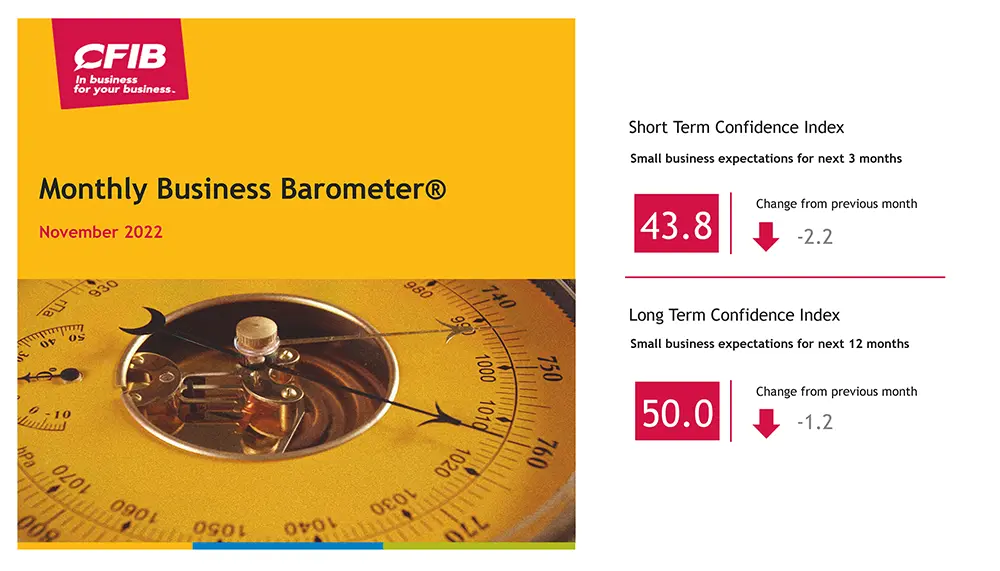 November 2022 Results
Canada's small business confidence is on a downwards trend for the third consecutive month.

CFIB's Business Barometer® short-term index, based on 3-month forward expectations for business performance, dropped another two points to 43.8. The long-term optimism index, which is based on a 12-month outlook, reached 50.0 —indicating that there are equal numbers of entrepreneurs feeling optimistic or pessimistic about the future. An index below 50 shows that there are fewer business owners feeling confident than feeling negatively about the next months.
Provincial Outlook
The provincial outlook over the short term is also trending down and mostly negative. While Saskatchewan, and Newfoundland and Labrador are leading the country and are registering levels of above 50 or just about, the remaining eight provinces are all below 50. Ontario is the least optimistic with a confidence level of 42.8.

Long-term outlook is more optimistic with PEI leading with an index of 60.9. All other provinces range above 50 except Ontario (49.7) and NL (42.3) which are rather pessimistic over the next 12 months.
Sectoral Outlook
The industry outlook is very mixed. The information and recreation sector is recording again the highest confidence levels over both time horizons and with very healthy levels of high-60s. At the opposite end, agriculture, retail and financial services are the least optimistic over both time spans. In fact, over the short term, the three sectors are recording levels below 40; and over the long term, they barely pass the 40 mark.
General Business Indicators
Full-time staffing plans had turned negative with slightly more businesses looking to lay off than to hire over the next 3-4 months.
Capital expenditure plans remain weaker than pre-pandemic times, but there are still about 50% of businesses who are planning to invest over the next 3-4 months, most of them in computers and office technology.
Price and wage plans
Average future price increasing plans decreased by 0.2 points to 3.9; while average wage plans increased from 3.1 in the previous month to 3.4. They are both below the peaks reached in May (prices at 4.9) and June (wages at 3.6).
Methodology
November findings are based on 719 responses from a stratified random sample of CFIB members, to a controlled-access web survey. Data reflect responses received from November 3 to the 11. Findings are statistically accurate to +/- 3.7 per cent 19 times in 20. Every new month, the entire series of indicators is recalculated for the previous month to include all survey responses received in that previous month. Measured on a scale between 0 and 100, an index above 50 means owners expecting their business's performance to be stronger over the next three or 12 months outnumber those expecting weaker performance. An index level near 65 normally indicates that the economy is growing at its potential.
The December Business Barometer will be released on December 29.
Andreea Bourgeois, Director of Economics
Simon Gaudreault, Vice-President, Research and Chief Economist
Related Documents
| Release Date | Report | Download |
| --- | --- | --- |
| November 2022 | Business Barometer® National Summary | PDF (1.8 MB) |
| November 2022 | Business Barometer® Provincial Summaries | PDF (610 KB) |
| November 2022 | Business Barometer® Industry Summaries | PDF (747 KB) |
| November 2022 | Business Barometer® Data Table | Excel (445 KB) |
| April 2022 | Business Barometer® Questionnaire | PDF (804 KB) |