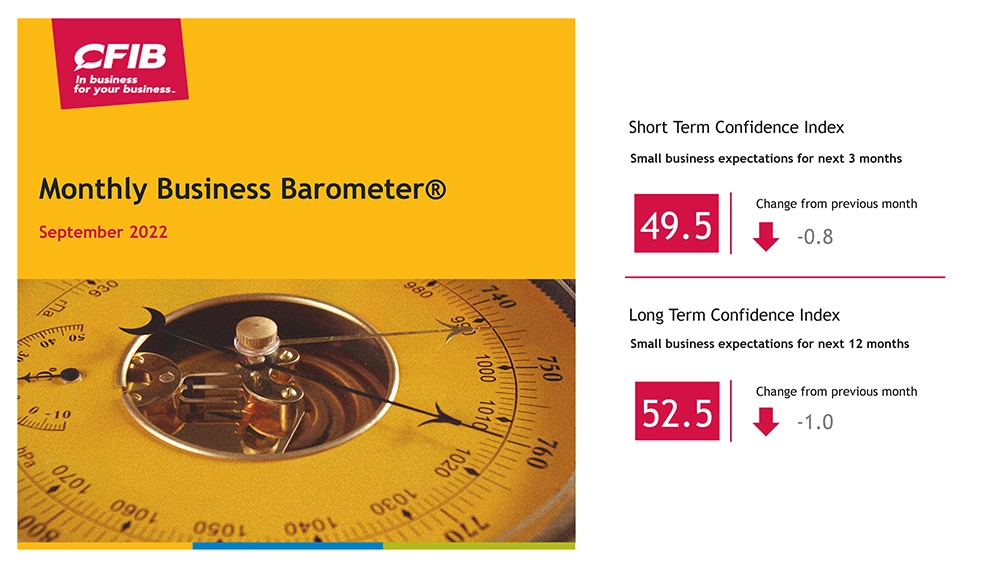 September 2022 Results
Canada's small business confidence over the short and long-term declined minimally in September, despite being already at modest levels.
CFIB's Business Barometer® short-term index, based on 3-month forward expectations for business performance, decreased to 49.5 barely a half point lower than in August. The long-term optimism index, which is based on a 12-month outlook, shaved one point and reached 52.5.
Provincial Outlook
Most provinces have very timid outlooks over the next 3-4 months with readings below 50. Nova Scotia and PEI are the most optimistic but even their levels are only at mid-50s. Saskatchewan and Quebec display indexes of 51.4 and 51.2 respectively.
Long-term optimism is only slightly better with confidence levels above 50 with the exception of BC at 48.8.
General Business Indicators
The general state of business didn't change much since August, and full-time hiring plans for the next 3-4 months are flat.
Average future price increasing plans fell to 4.0; and similarly, average wage plans remained stable at 3.1%.
Methodology
September findings are based on 687 responses from a stratified random sample of CFIB members, to a controlled-access web survey. Data reflect responses received from September 6 to the 22. Findings are statistically accurate to +/- 3.7 per cent 19 times in 20. Every new month, the entire series of indicators is recalculated for the previous month to include all survey responses received in that previous month. Measured on a scale between 0 and 100, an index above 50 means owners expecting their business's performance to be stronger over the next three or 12 months outnumber those expecting weaker performance. An index level near 65 normally indicates that the economy is growing at its potential.
The October Business Barometer will be released on October 27.
Andreea Bourgeois, Director of Economics
Simon Gaudreault, Vice-President, Research and Chief Economist
Related Documents
| Release Date | Report | Download |
| --- | --- | --- |
| September 2022 | Business Barometer® National Summary | PDF (1.7 MB) |
| September 2022 | Business Barometer® Provincial Summaries | PDF (607 KB) |
| September 2022 | Business Barometer® Industry Summaries | PDF (735 KB) |
| September 2022 | Business Barometer® Data Table | PDF (429 KB) |
| April 2022 | Business Barometer® Questionnaire | PDF (804 KB) |