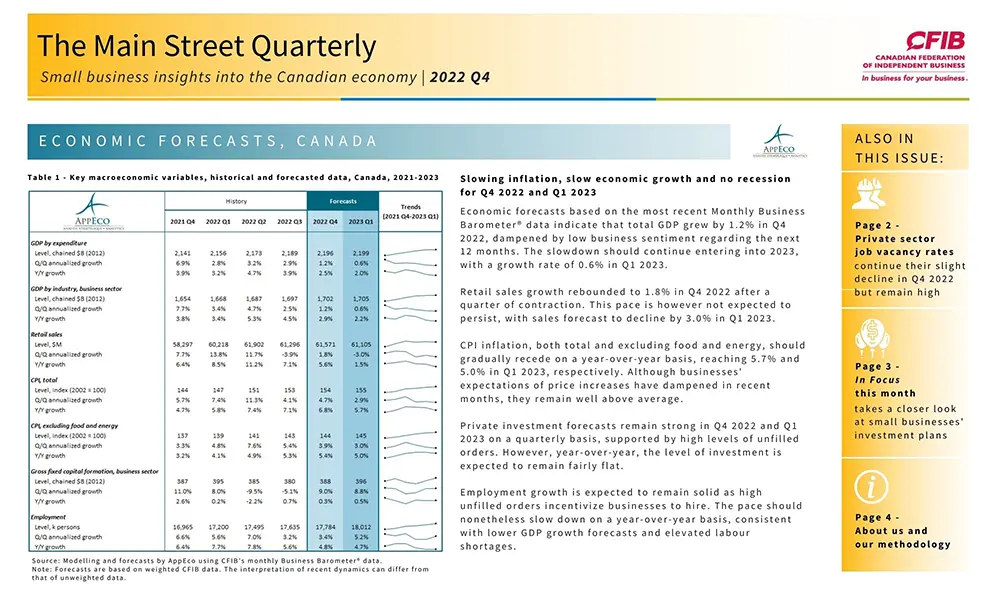 Economic forecasts based on the most recent Monthly Business Barometer® data indicate that total GDP grew by 1.2% in Q4 2022, dampened by low business sentiment regarding the next 12 months. The slowdown should continue entering into 2023, with a growth rate of 0.6% in Q1 2023.

Retail sales growth rebounded to 1.8% in Q4 2022 after a quarter of contraction. This pace is however not expected to persist, with sales forecast to decline by 3.0% in Q1 2023.

CPI inflation, both total and excluding food and energy, should gradually recede on a year-over-year basis, reaching 5.7% and 5.0% in Q1 2023, respectively. Although businesses' expectations of price increases have dampened in recent months, they remain well above average.
Those are some of the headline results from The Main Street Quarterly, CFIB's new economic publication. CFIB and consulting firm AppEco have partnered to develop early short-term economic forecasts of some key macroeconomic indicators, leveraging the timeliness of CFIB's Your Business Outlook survey, the same survey used to create CFIB's Monthly Business Barometer®.
The Main Street Quarterly also contains CFIB's latest estimates of private sector job vacancies, and an 'In Focus' section covering a specific topic each quarter; the current issue focuses on investement plans for small- and medium-sized enterprises.
Related Documents
| Release Date | Report | Download |
| --- | --- | --- |
| January 12, 2023 | The Main Street Quarterly - Q4 2022 | PDF (580 KB) |
| January 12, 2023 | Job Vacancies Data Table - Q4 2022 | Excel (40 KB) |
| October 6, 2022 | In Focus: Financial State of Small Business - Q3 2022 | PDF (150 KB) |