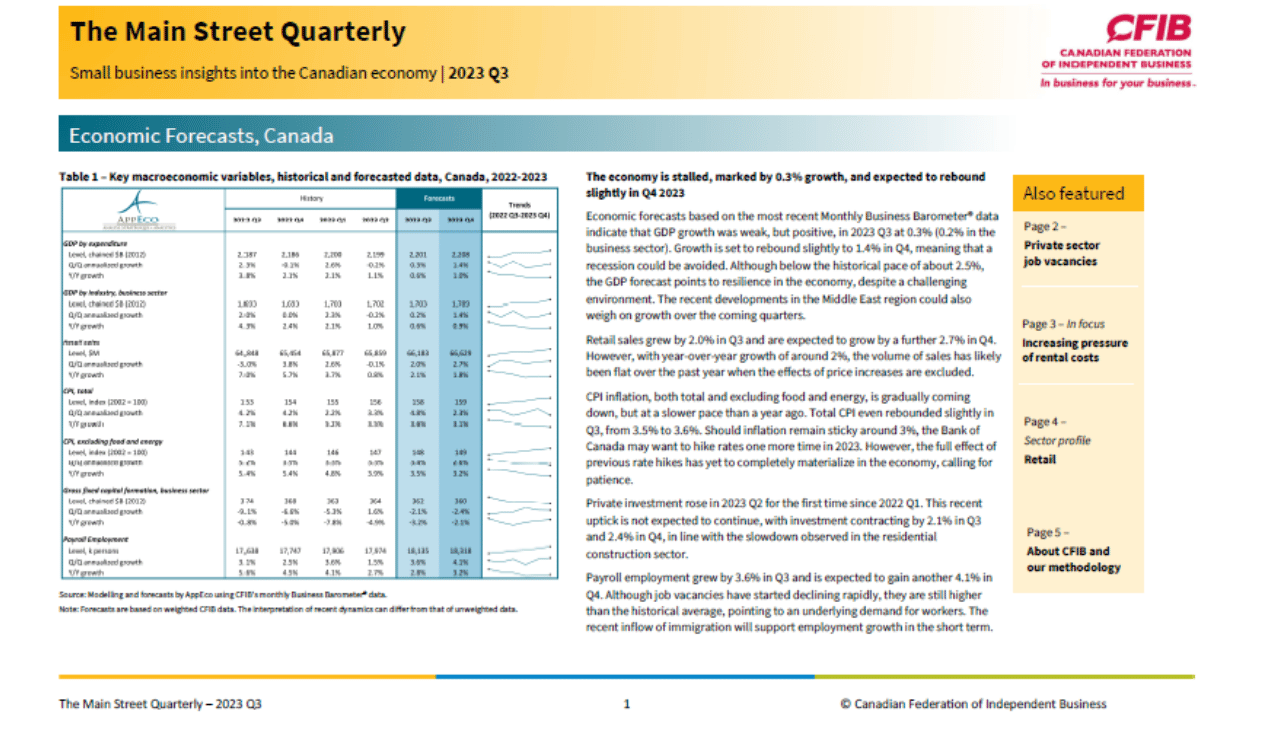 The economy is stalled marked by 0.3% growth in Q3 2023, and expected to rebound slightly in Q4
Economic forecasts based on the most recent monthly Business Barometer® data indicate that GDP growth was weak, but positive, in 2023 Q3 at 0.3% (0.2% in the business sector). Growth is set to rebound slightly to 1.4% in Q4, meaning that a recession could be avoided. Although below the historical pace of about 2.5%, the GDP forecast points to resilience in the economy, despite a challenging environment. The recent developments in the Middle East region could also weigh on growth over the coming quarters.
Retail sales grew by 2.0% in Q3 and are expected to grow by a further 2.7% in Q4. However, with year-over-year growth of around 2%, the volume of sales has likely been flat over the past year when the effects of price increases are excluded.

CPI inflation, both total and excluding food and energy, is gradually coming down, but at a slower pace than a year ago. Total CPI even rebounded slightly in Q3, from 3.5% to 3.6%. Should inflation remain sticky around 3%, the Bank of Canada may want to hike rates one more time in 2023. However, the full effect of previous rate hikes has yet to completely materialize in the economy, calling for patience.

Private investment rose in 2023 Q2 for the first time since 2022 Q1. This recent uptick is not expected to continue, with investment contracting by 2.1% in Q3 and 2.4% in Q4, in line with the slowdown observed in the residential construction sector.

Payroll employment grew by 3.6% in Q3 and is expected to gain another 4.1% in Q4. Although job vacancies have started declining rapidly, they are still higher than the historical average, pointing to an underlying demand for workers. The recent inflow of immigration will support employment growth in the short term.

Those are the recent results from The Main Street Quarterly, CFIB's economic publication. CFIB and consulting firm AppEco have partnered to develop early short-term economic forecasts of some key macroeconomic indicators, leveraging the timeliness of CFIB's Your Business Outlook survey, the same survey used to create CFIB's Monthly Business Barometer®.
The Main Street Quarterly also contains CFIB's latest estimates of private sector job vacancies, and an 'In Focus' section covering a specific topic each quarter; the current issue focuses on the steep hikes in commercial rents.
This edition shows a deeper look at the retail sector - its footprint on the economy, its fitness and challenges.
Next release will be mid January 2024.
Related Documents
Full Report
Help Wanted
In Focus
Sectoral profile
Methodology